Turkey Cutlets with Sherry and Almonds
Braised Potatoes, Carrots and Onions
Cooking time:  35 minutes for menu          Cooking schedule: see below for instructions
     Thinly sliced turkey cutlets cook quickly and lend themselves well to all types of sauces and treatments.   If you can't find them you can substitute chicken breasts or get a turkey tenderloin or breast and either slice it yourself or have your butcher do it for you.  
Turkey Cutlets with Sherry and Almonds
Total time: 15 minutes
     Much more economical than the traditional veal cutlets, breaded turkey with a light sherry and almond sauce is an impressive, but simple dish.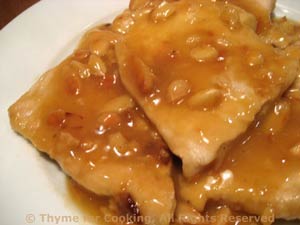 Ingredients:
2 - 4 turkey cutlets, depending on size, 12oz total (360gr)
2 tbs flour
1/4 cup (1oz, 30gr) slivered or roughly chopped almonds
1/4 cup (2oz, 60ml) chicken stock
1/4 cup (2oz, 60ml) sherry
1 tbs olive oil
1 tbs butter
2 tsp cornstarch dissolved in 1 tbs chicken stock
 Instructions:
Braised Potatoes, Carrots and Onions
Total time: 35 minutes
   Simple braised vegetables: put them all in a saucepan, add stock, ignore until done. 
 Ingredients:
2 medium carrots

2 medium potatoes
1 large onion
1 cup (8oz, 240ml) chicken stock
 Instructions:
Peel carrots and roll cut: cut the end off of the carrot at an angle, roll carrot 1/4 turn and cut next piece about 3/4 inch away at an angle, roll 1/4 and cut next piece, etc.  This gives you interesting looking pieces with lots of surface and helps them cook faster. 
Cut the potatoes into eighths; the onion into wedges. 
Put the vegetables into a saucepan, add stock and bring to a boil. 
Cover and simmer until vegetables are tender, 20 - 25 minutes. Check occasionally to make certain they don't dry out - add more stock or water as needed.  
Drain if needed, and serve.
Cooking schedule: 35 minutes
Assemble all food, utensils and serving dishes
Utensils: measuring cups, spoons, knives,
large nonstick skillet, plate, medium saucepan, lid
Put stock in saucepan over medium heat
Peel carrots, cut, add to stock
Peel onion, cut, add to stock
Cut potato, add to stock
Cover, simmer
Sliver almonds (or chop) if needed
Dredge turkey cutlets in flour

Heat oil in skillet, add turkey, sauté
Turn cutlets
Remove cutlets
Sauté almonds
Add sherry, stock to pan, deglaze
Thicken sherry/stock
Return cutlets to pan, cover, simmer, low heat
When vegetables are done, drain if needed
Remove turkey to platter
Pour sauce over, sprinkle with almonds
Serve all and eat!