Veal with Garlic
Buttered Potatoes
Sautéed Sliced Brussels Sprouts with Leeks
Cooking time: 25 minutes for menu          Cooking schedule: see below for instructions
     Leftover Veal from Saturday with some simple boiled potatoes and Sautéed Sprouts.
Braised Veal with Garlic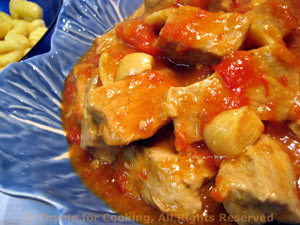 Total time: 10 minutes

 Ingredients:
 Instructions:
Gently reheat in a saucepan or microwave until hot.
Buttered Potatoes
Total time: 25 minutes
    Sometime the simple things are best ....butter is optional!
 Ingredients:
2 medium potatoes, 12oz total (360gr)
1 tbs butter
salt & pepper
 Instructions:
Scrub potatoes and cut into quarters. 
Put into a sauce pan and cover with water to which you add 1/4 tsp salt. 
Cover and bring to a boil.  When boiling move cover so it is ajar else the potatoes will boil over.  They will, I promise.  
Remove from heat when done (stick a knife in and test - should go in easily). 
Drain, add butter, salt & pepper if using, and serve.
Sautéed Sliced Brussels Sprouts with Leeks
Total time: 10 minutes
    I'm learning that these little green 'cabbages' are very versatile, and the key to good sprouts is not overcooking.  Shredding, followed by a quick sauté is perfect.
 Ingredients:
12 - 15 medium Brussels sprouts
1/2 medium leek
1 tbs olive oil
1 tsp Balsamic vinegar
sea salt
 Instructions:
Slice off stem end of sprouts and remove any wilted or damaged leaves.
Thinly slice the sprouts, cutting the larger ones in half first.
Trim the leek, cut in half the long way.  Thinly slice half of the leek, reserving the rest for another use. 
Heat oil in a medium nonstick skillet over medium-high heat.  Add leeks and sprouts.
Sauté until they start to develop brown spots but are still crisp tender, about 7 minutes, stirring often.
Stir in vinegar, remove, sprinkle with sea salt and serve.
Cooking schedule: 25 minutes
Assemble all food, utensils and serving dishes
Utensils: measuring cups, spoons, knives,
2 medium saucepans, lids, med. nonstick skillet
Cut potatoes, cook
Reheat veal
Trim, slice sprouts

Slice leek
Sauté leeks, sprouts
      Wait for stuff to cook
Mind the leeks and sprouts
Remove the veal when hot
Finish sprouts
Butter the potatoes, serve