Grilled Chicken with Ginger Barbecue Sauce
Quinoa and Avocado Salad
Baked Tomato
Cooking time:  30 minutes for menu          Cooking schedule: see below for instructions
    We'll use the rest of the Ginger Barbecue Sauce for the chicken.
Chicken Breasts with Ginger Barbecue Sauce
Total time: 30 minutes
     When we serve chicken breasts, rather than put the whole breast on the plate we prefer it sliced.  Thinly sliced, at an angle, it seems to be more succulent.  Any remaining sauce is perfect for dipping. (Remember to separate the basting sauce, from the dipping sauce - leftover basting sauce should not be used - raw meat and all that)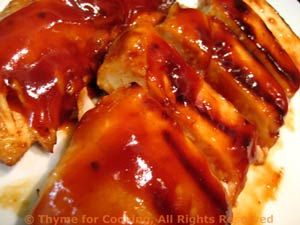 Ingredients:
2 chicken breasts, boneless, skinless
2 tbs olive oil
1 tbs sherry vinegar
1 tbs Worcestershire sauce
1 tbs lemon juice
Ginger Barbecue Sauce:
leftover or....
1 cup tomato sauce, 8oz (240ml)
2 tbs molasses
2 tbs cider vinegar or other vinegar
1 - 2 tsp dry mustard   

try 1 tsp, taste after heating, add more if you like

1 - 2 tsp ground ginger 

try 1 tsp, taste after heating, add more if you like

1 tbs soy sauce
 Instructions:
In small bowl whisk together Worcestershire, vinegar, lemon juice and oil. 
Put chicken breasts in glass baking dish and pour marinade over.  Let marinate for 10 - 20 minutes or up to 2 hours.
Cook on barbecue grill for 8 - 12 minutes a side or until done (test - take a peak), basting with Barbecue Sauce. 
OR sauté in nonstick skillet for 8 - 10 minutes a side until nicely browned and done, basting with sauce. 
Serve with sauce on the side.
Ginger Barbecue Sauce
Heat all ingredients in a small saucepan, whisking to combine.  Bring to a simmer just long enough to combine all ingredients.  
Note: Remove 2 - 3 tbs barbecue sauce to use for basting rather than dipping the basting brush or spoon into that entire sauce.  
Quinoa and Avocado Salad
Total time: 20 minutes
   Quinoa is very high in protein and "contains a balanced set of essential amino acids for humans, making it an unusually complete food" according to Wikipedia.  The avocado adds a creamy, luscious, element to the quinoa, (even if the color was a little strange).  You can substitute Basmati or Jasmine rice.
 Ingredients:
1/2 cup (3.5oz, 100gr) quinoa
1 cup (8oz, 240ml) chicken stock
1 avocado
1 tbs fresh, snipped chives
Vinaigrette
2 tsp Dijon-style mustard
2 tsp tarragon white wine vinegar
2 tsp lemon juice
2 tbs salad olive oil
 Instructions:
Combine quinoa and stock in small saucepan. 
Cover and bring to a boil. 
Reduce heat and simmer until done, about 15 minutes  (or whatever your package says). 
Uncover, fluff with a fork and allow to cool for a few minutes (or longer).
Cut avocado, remove pit and slice. Cut the slices in half.
Snip chives. 

Make vinaigrette:

Put all ingredients into a small bowl and whisk well to combine.
Add vinaigrette and chives to the avocado and stir gently.
Add avocado to quinoa, stir to combine and serve.
Baked Tomatoes
Total time: 25 minutes
    In England they serve plain baked tomatoes for breakfast.  We like them, stuffed, as a first course.  They also make a lovely, vegetable side dish, especially now, as we move into fall.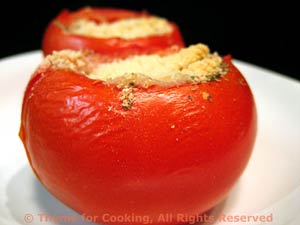 Ingredients:
2 large tomatoes, suitable for stuffing
1 tsp herbes de Provence
2 tbs grated Parmesan
2 tbs dried bread crumbs
 Instructions:
Slice the tops off of the tomatoes and scoop out the pulp and seeds leaving a hollow shell. 
In a small bowl mix herbs, cheese and bread crumbs. 
Spoon mixture into tomatoes. 
Put into a small, shallow baking pan and bake at 400F for 15 - 20 minutes, until tomatoes are hot and juicy. 
Remove and serve.
Cooking schedule: 30 minutes
Assemble all ingredients and utensils
Utensils: measuring cups, spoons, knives,
scissors, small bowl (used 3 X), whisk, dish for
marinating, small saucepan, lid, medium bowl,
baking dish, barbecue grill, grill tools
Mix marinade and pour over chicken
Light/turn on barbecue grill
Turn on oven, 400F (200C)
Scoop out tomatoes
Mix herbs, crumbs, cheese
Stuff tomatoes, bake

Start to cook quinoa
Start to cook chicken, baste
Make vinaigrette
Cut avocado, out in medium bowl
Snip herbs
Turn chicken, baste
Add vinaigrette, herbs to avocado, stir gently
Fluff quinoa
When chicken is done, remove, let rest
Add quinoa to avocado, stir gently
Remove tomatoes
Slice chicken, serve