Pasta with Bacon and Leeks
Fresh Fruit
Cooking time:  25 minutes for menu       Cooking schedule: see below for instructions
          I'm so glad that I decided Sundays could be 'decadent food days' occasionally. That way I can make some of these wonderful dishes and know it's the 'exception' rather than the 'rule'! We'll finish with some nice fruit - our nod to healthy eating!
Pasta with Bacon and Leeks
Total time: 25 minutes
    This is my answer to the much more decadent Fettuccini Alfredo and a variation on Spaghetti Carbonara.  Leeks are best in this, as they are mild, but you could substitute 2 onions, just sauté them until very tender and starting to brown.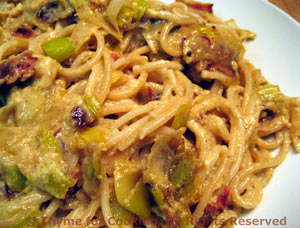 Ingredients:
4 medium leeks - about 1 1/2" diameter (3.5cm) each
3oz (90gr) bacon, strips, streaky bacon
2 tbs olive oil
3 eggs
1/3 cup (3oz, 90gr) Greek yogurt, crème fraiche or sour cream
3/4 cup (3oz, 90gr) freshly grated Parmesan plus a bit extra for sprinkling at table
8oz (240gr) fresh pasta, fettuccini, tagliatelle or spaghetti

or

4oz (120gr) dry spaghetti or fettuccini
 Instructions
Pasta:

 
Cook pasta according to package directions. 
Sauce: 
Clean leeks and slice 1/4" (.75cm) thick, using up to the dark green.  
Sauté bacon in a large nonstick skillet until crisp. 
Remove and set aside.  Pour off most of the bacon fat. 
Add olive oil to skillet and scrape up any brown bits from the bacon. 
Add leeks and sauté until very tender, about 10 minutes. 
Crumble bacon and return to pan. 
Whisk eggs, yogurt and 1/4 cup Parmesan cheese.
Finish:
Drain pasta and quickly add to leeks. 
Using tongs or 2 large forks, toss lightly to combine.
Pour egg mixture over pasta and cook, stirring/tossing constantly, 1 - 2 minutes, until eggs are very, very lightly cooked (they'll finish from the heat of the pasta - if you cook too long the sauce will be crumbly rather than creamy).
Immediately pour into a large serving bowl, sprinkle with remaining Parmesan and serve.
Note:  I used whole wheat pasta.
Fresh Fruit
Something seasonal
Cooking Schedule: 25 minutes for menu
Assemble all ingredients and utensils
Utensils: measuring cups, spoons, knives,
pot and colander for pasta, large skillet, medium
bowl, whisk 
Put water on high heat for pasta
Note:  Fresh pasta cooks in 3 - 4 minutes
           Dried pasta in 15 minutes
       If using dried pasta don't start cooking until you
       start the pasta
Start to cook pasta if using dried
Sauté bacon

Clean, slice leeks
Remove bacon, drain excess fat
Add oil, scrape pan
Add leeks, sauté
Grate Parmesan
Whisk eggs, yogurt, cheese
Start to cook fresh pasta
Crumble bacon, add to leeks
Drain pasta, add to leeks, bacon, toss well
Pour eggs over, cook, stirring
Pour into bowl, sprinkle with cheese
Serve - don't forget the fruit!