Sweet and Sour Salad / Turkey and Mushrooms
Three Bean Salad
Cooking time: 30 minutes for menu          Cooking schedule: see below for instructions
     I modified the recipe for Sweet and Sour Chicken Salad to use up our leftovers. Toss in any leftover spinach as well.
Sweet and Sour Chicken Salad 
Total time: 25 minutes
    You can use bottled Sweet and Sour Sauce or my recipe - which makes just the right amount.  I usually use mushrooms raw in salads, but sometimes, as here, they are sautéed to absorb and blend the flavors.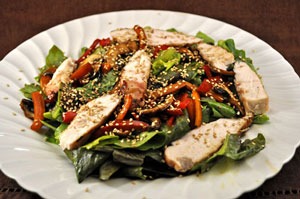 Ingredients:
leftover brined turkey

4oz (120gr) mushrooms
1 tbs fresh snipped chives  

sub. 1 tsp dried

1 tbs toasted sesame seeds
3 tbs Teriyaki sauce
2 tsp walnut or sesame oil
1/4 cup sweet and sour sauce
Lettuce, enough for 2 main course salads
Sweet and Sour Sauce: 
1 tbs sugar
1 tbs cider vinegar
2 tbs soy sauce
1 tsp cornstarch (maizena)
Vinaigrette:
1/4 cup sweet and sour sauce

1/2 tsp dry mustard

1/2 tsp garlic powder
1 tbs cider vinegar
3 tbs salad olive oil
 Instructions:
Pour 2 tbs Teriyaki sauce over chicken and allow to marinated a few minutes.
Clean and thickly slice mushrooms. 
Clean and slice pepper into strips
In nonstick skillet heat oil and 1 tbs Teriyaki sauce. 
When hot add mushrooms, pepper and sauté briefly, about 4 minutes.  Remove and set aside.
Cook chicken on barbecue grill over direct heat for 8 - 10 minutes per side.  When done remove and slice.  

Or: 

cut into strips before marinating, toss with Teriyaki sauce and stir-fry in nonstick skillet in 1 tbs oil for 4 - 5 minutes.
Sweet and Sour Sauce:
In a small saucepan, heat sugar, vinegar, soy sauce and cornstarch to boiling, stirring with a whisk. 
Cook until thick and clear, about 1 minute.  Allow to cool  
Vinaigrette:
Put all ingredients in a small bowl and whisk well to combine.
To finish:
Snip chives. 
Prepare lettuce and put into a large salad bowl along with chives. 
Toss with about half of the vinaigrette - it's quite thick so it takes a bit of tossing to distribute it well - be careful not to use too much to start. 
When it is to your liking, add mushrooms, peppers and toss gently.  Arrange chicken on top.  Drizzle with a bit of vinaigrette, sprinkle with sesame seeds, and serve with remaining vinaigrette on the side. 
Note: Toast sesame seeds in a dry, nonstick skillet, over medium-high heat, 3 - 6 minutes. Start flipping them or shaking the skillet after 1 - 2 minutes and remove as soon as light brown.
Three Bean Salad
Total time: 30 minutes
   Strangely, this is a salad that I didn't like as a child.  It was something I needed to put my own twist on, choose the beans and make the vinaigrette.  Use any beans you like; these are my preferences for a pretty and flavorful salad.
 Ingredients:
6oz (180gr) green beans
6oz (180gr) yellow wax beans
1 3/4 cups (15oz, 450gr) red kidney beans
1/2 orange or red bell pepper
2 tbs fresh snipped chives
2 tbs brown sugar
1 tbs Dijon-style mustard
1/4 cup (2oz, 60ml) tarragon white wine vinegar
1/4 cup (2oz, 60ml) olive oil
 Instructions:
Top and tail beans.  Cut in 1" (2.5 cm) lengths. 
Bring a medium saucepan half full of water to a boil over high heat. 
 Add beans and blanch for 4 minutes, until just tender. 
Drain beans and immediately submerge in an equal amount of very cold water. 
Drain again, spread out on paper towels and pat dry. 
Put into a serving bowl. 
Drain kidney beans and add to bowl. 
Chop red pepper and add. 
Snip chives and add. 
Vinaigrette:
In small bowl whisk together the sugar, mustard and vinegar. 
Slowly add the oil whisking constantly. 
Pour over beans and toss to combine. 

Set aside for at least 15 minutes.  Serve. 

This keeps for several days in the fridge

.
Cooking schedule: 30 minutes
Assemble all food, utensils and serving dishes
Utensils: measuring cups, spoons, knives,
small bowl (used 2 X), large bowl, whisk, small
saucepan, medium saucepan, strainer, medium
skillet, salad spinner, salad bowl
Heat water for blanching beans
Top and tail beans, cut
Chop red pepper, put in bowl
Blanch beans
Drain, rinse kidney beans, add to bowl
Snip all chives, add 2 tbs to bowl
Plunge beans in cold water
When cool, spread beans to dry

Make vinaigrette for beans
Add beans to bowl
Add vinaigrette, stir to coat, set aside
Make sweet sour sauce if needed
Prepare lettuce, spin, chill
Thickly slice mushrooms
Toast sesame seeds if needed
Sauté mushrooms
Slice turkey
Make vinaigrette
Remove mushrooms
Toss lettuce with some vinaigrette
Assemble salad
Serve all