Grilled Ham with Red-Eye Glaze
Barley Pilaf
Grilled Zucchini (Courgette)
Cooking time:  25 minutes for menu          Cooking schedule: see below for instructions
    No need to be careful with the basting sauce for this dish as the ham is already cooked.  Use it for basting, then finishing.  Both the zucchini and the ham will cook quickly.
Grilled Ham with Red Eye Glaze
Total time: 15 minutes
    A Southern Classic, moved to the barbecue grill.  The glazed is boiled to reduce it a bit, then used both to baste the ham and as a finishing sauce.  As the ham is already fully cooked, this is a very quick dish.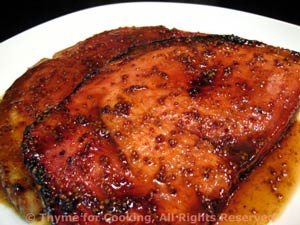 Ingredients:
 Instructions:
Mix sugar, coffee, mustard and vinegar in a small saucepan. 
Boil for 5 minutes, reducing by half. 
Cook ham on the barbecue grill, 5  - 7 minutes per side, basting with the Redeye Glaze until ham is a lovely mahogany color. 

Or

sauté in olive oil in nonstick skillet for same amount of time - until it starts to brown. Pour any remaining glaze over the ham and serve. .

 

As ham is cooked there is no problem using basting sauce to finish

.
Barley Pilaf
Total time: 25 minutes
   Barley is a hearty, nutritious grain; easy to cook and flavorful.  I get the quick-cooking barley which takes 15 minutes.  Here it's cooked in chicken stock with sautéed carrots and onion; a pretty, flavorful side dish.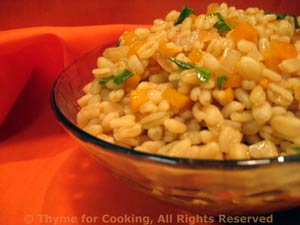 Ingredients:
1/2 cup (2.8oz, 80gr) quick-cooking barley
1 cup (8oz, 240ml) chicken stock (or more, depending on type of barley)
1 small - medium carrot
1/2 onion
1 tbs soy sauce
1 tbs dry sherry
1 tsp dried basil
1 tsp olive oil
 Instructions:
C

hop

onion and carrot.

Heat oil in a small saucepan.  Add onion, carrot and sauté until they start to get tender, about 5 minutes.
Add barley, stock, soy sauce, basil and sherry; stir to combine.
Cover and simmer until barley is done, about 15 minutes or according to package directions. 
Serve.
Grilled Zucchini (Courgette)
Total time: 20 minutes
     Did I mention that the hubs does all of the outdoor cooking?  He is convinced that he can cook anything on the grill.  When he saw the pile of zucchini becoming a mountain last summer he tried this.... and it was good.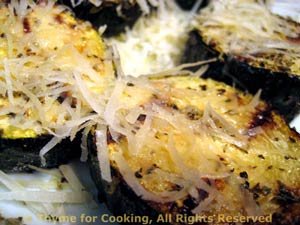 Ingredients:
1 medium zucchini (courgette) 7 - 8 inches (20 cm)
2 tbs olive oil
salt - flavored, if you use it
pepper
2 - 3 tbs Parmesan cheese
 Instructions:
Put olive oil on a plate. 
Slice courgette into 1/2 inch thick rounds. 
Dip both sides in olive oil and put directly onto grill of barbecue. 
Grill until soft and browned - about 15 minutes, turning once. 
Remove and immediately sprinkle with salt, pepper and Parmesan. Serve.
Note: You can fry them in a nonstick skillet over medium high heat for 8 minutes a side, until they develop light brown spots.  Use 1 tbs butter and 1 tbs olive oil.  They will absorb and then release the oil.  You can drain them briefly on paper towels before adding salt, pepper and Parmesan.
Cooking schedule: 25 minutes
Assemble all ingredients and utensils
Utensils: measuring cups, spoons, knives,
plate, 2 small saucepans, one lid, barbecue grill
or skillet
Light/turn on barbecue grill if using
Make glaze, heat, reduce
Chop onion, carrot
Sauté onion, carrot
Slice courgette

Add barley, stock, soy, sherry to carrot/onion
Cover, simmer
Dip courgette slices in oil
Start to grill courgette
Start to grill ham, baste
Grate Parmesan if needed
Baste ham, turn, baste
Turn courgette
Mind the food, remove when done
Stir barley, serve everything