Sliced, Baked Tomatoes
Brined and Grilled Cornish Hens
Roasted Potato Salad with Capers
Green Beans with Tomato and Onion
Cooking time:  60 minutes plus 10 earlier        Cooking schedule: see below for instructions
       Two birds are usually more than we eat... But one isn't quite enough.  Either have the leftover in sandwiches (chicken salad?) or use it in place of the ham in Sunday's Salad.  Remember to start the brining early in the day.  Through a handful of soaked wood chips on the coals for a bit of a smoky flavor.....
Baked, Sliced Tomatoes with Basil
Total time: 15 minutes
     These are meant to be warm, but not cooked... just enough to melt the cheese.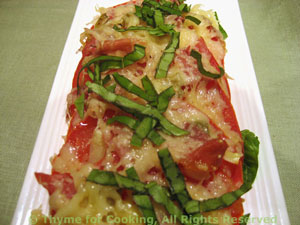 Ingredients:
2 large, ripe tomatoes
1/4 (1oz, 30gr) shredded cheese
1 clove garlic
1/2 tsp chili powder
2 slice Prosciutto
5 - 6 large basil leaves, shredded
1 tbs good olive oil
1 tbs good Balsamic vinegar
 Instructions:
Brined and Grilled Cornish Hens (Poussin, little chickens)
Total time: 60 minutes  plus 10 earlier
  The poussin that we get are very young chickens and weigh about 18oz (550gr) each.  They are perfect individual servings (with maybe a snack leftover).  If you get larger birds one may be enough; you could cut it in half before cooking, if you like.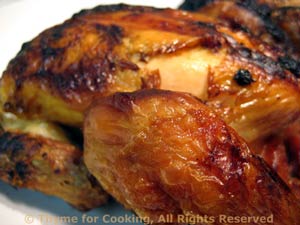 Ingredients:
2 Cornish game hens or poussin (little chickens), depending on size.
Brine:
3 cups very cold water
1 cup ice cubes app.
1/4 cup rock, sea or kosher salt
1/4 cup sugar
1/4 cup white wine tarragon vinegar
2 bay (laurel) leaves
2 cloves garlic
1 tbs juniper berries

optional

Basting sauce:
2 tbs olive oil
1 tbs lemon juice
 Instructions:
Earlier in the day:
At least 2 hours and up to 7 hours before cooking, mix water, salt, sugar and vinegar in a deep bowl.  Stir until sugar and salt are dissolved. 
Peel garlic and smash with the flat of the knife. 
Add garlic, bay leaves and juniper berries (if using). 
Add ice and hens, making certain that the hens are covered as best you can.   The tend to float..... 
Cover and refrigerate, turning occasionally, until ready to cook. 
Dinner: 
Remove chicken and allow to air dry for 15 minutes (or up to 30). 
Mix olive oil and lemon juice. 
Cook hens on barbecue grill over indirect heat (either charcoal or gas), covered, for 45 - 60 minutes, depending on size, or until done. 
Start basting after about 15 minutes and baste 2 or 3 times. Poultry is done at 160 F (70C) on your meat thermometer and/or the juices run clear when pierced with knife. 
The legs will also wiggle freely and the hens will be a lovely golden brown. 

Or

they can be baked in a shallow roasting pan in a 400F oven for 45 - 60 minutes, until done.  If baking, start basting immediately.
Creamy Caper and Roasted Potato Salad
Total time: 30 minutes
    Roasted potatoes, tossed with a creamy, Greek yogurt based dressing, makes an easy side dish for summer.  Lots of fresh, garden herbs and capers brings this simple potato salad out of the ordinary.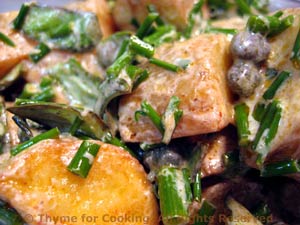 Ingredients:
 Instructions:
Potatoes: 
Slice potatoes in half the long way, then in half again. Then slice in half or thirds the short way. 
Put oil and paprika into bowl and mix.  Add potatoes and stir, coating thoroughly. 
Put them into an old metal pie plate or cake tin or foil barbecue container (or whatever) that you will never use for any purpose but the barbecue again....  and you should have one of these. 
Cook on barbecue (grill) for 25 - 35 minutes or until done... and you will need to stir them with a long-handled wooden spoon occasionally as they tend to develop 'hot spots' and can get a little crispy.   
Or you can roast them in the oven.  Arrange potatoes on baking sheet with rim (I use my trusty, round pizza pan) Bake at 400F for 30 minutes.
Salad:
Snip herbs. 
Put yogurt, vinegar and oil in a medium bowl and whisk well. 
Add capers and herbs and stir. 
When potatoes are done, add to dressing and stir to combine.  Serve hot, warm or cold.  
Braised Green Beans with Tomatoes, Onion and Basil 
Total time: 35 minutes
   A perfect showcase for summer's bounty: Tender green beans braised with ripe tomatoes and finished with fresh basil!  I often make enough to have the next day, cold.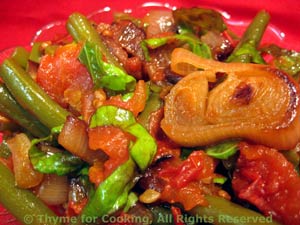 Ingredients:
6oz (180gr) green beans
1/2 red onion 

  other half for Tuesday

1 medium tomato, (5oz, 150gr)
1 tbs olive oil
2 tbs freshly snipped basil
 Instructions:
Top and tail beans... cut off the ends.  Cut into 1 1/2 inch lengths (4cm). 
Thickly slice onion.
Roughly chop tomato. 
Snip basil. 
Heat oil in nonstick skillet over medium heat.  Add onion and sauté until tender and transparent. 
Add beans and tomato, cover, reduce heat to low and simmer 20 - 25 minutes, until beans are tender and done. 
If they start to dry out add a tbs of water or chicken stock. 
When beans are done, uncover, stir in basil and serve.
Cooking Schedule: 60 minutes plus 10 earlier
Assemble all food, utensils and serving dishes
Utensils: measuring cups, spoons, knives,
scissors, whisk, deep bowl, small bowl, medium
bowl, small skillet, barbecue grill, grill pan and
tools or 2 baking sheets and oven
Earlier in the day:
Make brine
Rinse hens, add to brine
Cover, refrigerate
Remember to turn hens once or twice
Dinner:
Remove hens from brine, allow to air dry
Light/turn on barbecue grill
Turn oven on 400F (200C)
Start to cook hens
Cut potatoes
Mix oil, paprika in bowl, add potatoes, stir to coat
Start to cook potatoes - either grill or oven
     Pause while stuff cooks / Tidy up kitchen

Top and tail beans, cut
Chop tomato
Slice onion, reserve half
Snip all herbs
Make dressing for potato salad - medium bowl
Make basting sauce for hens
Baste hens, mind the potatoes
Slice tomatoes, arrange in dish
Sprinkle with chili powder, garlic, cheese
Bake tomatoes
Sauté onion
Remove potatoes, add to dressing, stir, set aside
Baste hens
Add beans, tomato to onion, cover, simmer
Remove tomatoes and serve
Done? Check hens
Mind the beans
Stir potatoes
When hens are done, remove
Serve all and enjoy