Sweet and Sour Chicken
Barley with Chives
Broccoli with Green Garlic
Cooking time:   30 minutes for menu      Cooking schedule: see below for instructions
     Chicken breasts, simmered in a sweet and pungent red wine sauce, barley and broccoli... Easy
Sweet and Sour Chicken
Total time: 30 minutes
     This is based on the Chinese Sweet and Pungent sauces, but with red wine and without the soy sauce.  A simple, skillet chicken.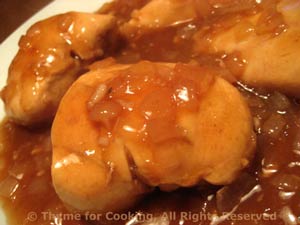 Ingredients:
2 chicken breasts, boneless, skinless
1 small onion
1 tbs olive oil
3 tbs red wine
3 tbs chicken stock
3 tbs red wine vinegar
2 tbs brown sugar
2 bay leaves (laurel)
2 tsp cornstarch (maizena, corn flour) dissolved in 1 tbs water
 Instructions:
Chop onion.
Cut chicken breasts in half if large.
Heat oil in medium nonstick skillet.
Add onion and sauté about 5 minutes.
Move onions to the side and add chicken.  Lightly brown on each side, about 5 minutes.
Add wine, stock and vinegar and bring to a boil.
Add sugar and stir until dissolved.
Add bay leaves, cover, reduce heat and simmer 15 minutes.
Dissolve cornstarch in water.
Uncover and increase heat.
Remove bay leaves.
Add cornstarch and stir until thickened and clear.
Put chicken breasts on a small platter, spoon some sauce over and serve, remaining sauce on the side.
Barley with Chives
Total time: 20 minutes
   Barley is not just for soup!  It's a hearty, nutritious grain; easy to cook and flavorful.  I get the quick-cooking barley which takes about 15 minutes.  Cooked in chicken stock and finished with a bit of oil and fresh herbs, it's chewy texture is a fun change from rice or pasta.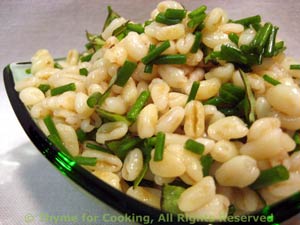 Ingredients:
1/2 cup (2.8oz, 80gr) quick-cooking barley
1 cup (8oz, 240ml) chicken stock (or more, depending on type of barley)
3 tbs fresh, snipped chives
1 tbs fresh, snipped basil
1 tbs good olive oil
 Instructions:
Cook barley in stock until done, stirring occasionally. If all stock is not absorbed, drain. 
Stir in olive oil, herbs and serve.
Broccoli with Green Garlic
Total time: 20 minutes
     Green garlic and olive oil are a simple finish with fresh, spring flavors.
 Ingredients:
1/2 head broccoli  
1 tbs olive oil

3 green garlic  

substitute 2 green onions, sliced, and 1 clove garlic, minced
 Instructions:
Cut broccoli into bite size florets and stems. 
Put in steamer basket in saucepan with an inch of water in bottom.  Put on medium heat and steam for 10 - 12 minutes or just until done, careful not to overcook. 
Remove from pan and set aside, discarding water. 
In the same pan heat olive oil. 
Trim and slice the green garlic.  Add to oil and sauté just until tender, about 3 minutes. 
Add broccoli and toss well to coat.  Serve.
Cooking schedule: 30 minutes
Assemble all food, utensils and serving dishes
Utensils: measuring cups, spoons, knives,
medium skillet with lid, medium saucepan with
steamer basket and lid, small saucepan with lid
Chop onion, sauté
Cut chicken
Move onions to side, add chicken, brown
Cut broccoli, steam
Slice green garlic
Turn chicken
Cook barley

Add wine, stock, vinegar to chicken, boil
Snip chives, basil
Add sugar, bay to chicken, stir, cover, simmer
      Pause while stuff cooks
Remove broccoli
Empty water, add oil, heat
Add green garlic, sauté
Dissolve cornstarch in water
Fluff barley, add herbs, oil, stir
Add broccoli to green garlic, stir
Remove bay leaf, stir in cornstarch
Serve