Pork Chops with Lemon Soy Glaze
Sesame Basmati Rice
Sautéed Butternut Squash, Oriental
Cooking time:  30 minutes for menu           Cooking schedule: see below for instructions
          Dinner with an Oriental flavor; spicy pork chops, sesame rice and even the butternut squash lends itself to a quick stir-fry. 
Pork Chops with Lemon/Soy Glaze
Total time: 30 minutes
    This has a piquant sauce: dark, spicy, salty, sour, wonderful.  The pork chops I use are thin, about 3/8" (3/4cm).  If yours are thicker increase cooking time to 15 minutes.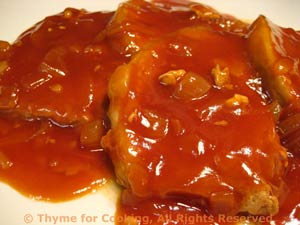 Ingredients:
 Instructions:
Squeeze lemon.
Combine soy sauce, lemon juice, stock and tomato paste in a dish. 
Add pork chops turning to coat and allow to marinate. 
Sauté onion, garlic and ginger in oil in large skillet over medium heat.
Add pork chops (reserving marinade) and brown - pushing onion mixture to sides of pan to prevent burning. 
Add reserved marinade and cook, covered 8 - 10 minutes longer or until done. 
Remove chops from pan. 
Thicken pan juices by adding cornstarch mixture and stirring well.  Pour over chops and serve.
Sesame Basmati Rice
Total time: 20 minutes
   Something as easy as a bit of soy sauce, some sherry and a sprinkling of sesame seeds can elevate simple Basmati rice to a gourmet level.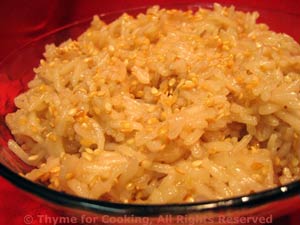 Ingredients:
1/2 cup (3.3oz, 95gr) Basmati rice
1 tsp sesame oil
1 tsp butter
1 cup (8oz, 240ml) chicken stock
1 tsp soy sauce
1 tbs dry sherry

1 tbs sesame seeds

  

toasted is nice
 Instructions:
Melt butter in small saucepan with sesame oil over medium heat. 
Add rice and sauté, stirring for 1 - 2 minutes. 
Add stock, soy sauce and sherry. 
Cook rice for length of time on package. 
When done fluff with a fork, add sesame seeds, fluff some more and serve.
To toast sesame seeds:  Put them into a dry, nonstick skillet over medium heat.  Toss or stir them about in the pan until lightly golden, about 5 minutes.
Sautéed Butternut Squash, Oriental Style
Total time: 20 minutes
     Butternut squash sautéed with onion and soy sauce, another simple preparation for this savory fall vegetable.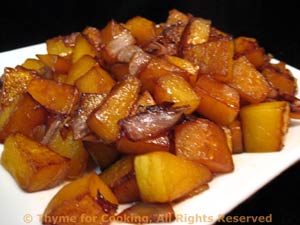 Ingredients:
 Instructions:
Slice butternut squash, (.5", 1.25cm) then cut into bite-size pieces. 
Roughly chop onion. 
Heat oils and soy sauce in a large, nonstick skillet over medium heat. 
Add squash, onions and sauté 15 minutes, until squash and onions are nicely browned. Serve.
Cooking schedule: 30 minutes
Assemble all food, utensils and serving dishes
Utensils: measuring cups, spoons, knives,
small bowl, dish for marinating, large skillet with lid,
small saucepan with lid, medium nonstick skillet
Mix marinade, pour over pork chops
Chop onion, divide
Mince garlic, ginger
Sauté onion, garlic, ginger for chops
Sauté rice
Clean squash if needed, cut
Add stock, sherry, soy sauce to rice, cover, simmer


Brown pork chops (reserve marinade)
Sauté squash, onions
Turn chops, brown
Add reserved marinade to chops, cover, simmer
Toast sesame seeds if needed
Dissolve cornstarch in water
Mind the squash, stir, flip, turn
    Pause while it all cooks
Check rice, finish
Mind the squash
Remove chops from pan
Thicken sauce, pour over chops, Serve