Roasted Lemon Chicken
Mashed Potatoes and Cauliflower Medley
Cooking time: 80 minutes for menu          Cooking schedule: see below for instructions
          The chicken is Italian, and the easiest, fool-proof chicken recipe I have.  Keeping it easy is the Potato Cauliflower Medley.  Make gravy/sauce from the chicken or not, as you choose. We'll use the rest of the chicken on Monday.
Roast Chicken with Lemon
Total time: 1 hour 30 minutes
  This is the easiest chicken recipe I have ever seen; and also one of the best.  The skin puffs up, away from the chicken which is rather interesting. The chicken  is moist, tender and lightly flavored with lemon.  The gravy is excellent!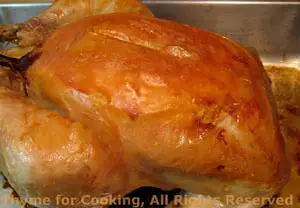 Ingredients:
1 whole roasting chicken

2 small lemons, preferably thin-skinned and juicy

   

  for a thicker sauce:

1 cup (8oz, 2240ml) chicken stock
1 - 2 tbs cornstarch (maizena)
 Instructions:
Clean the chicken. 
Roll the lemons on the counter with your hand a few times, pressing lightly. 
With a toothpick prick the lemons all over, 20 - 25 times. 
Put the lemons inside the chicken. 
With kitchen string (or whatever) tie the legs together.  Twist the wing tips around so they are tucked under the back, supporting the chicken.  (If you don't do these last two it won't affect the recipe - only the appearance.) 
Do

not

salt, butter, oil or anything else. 
Put breast side

down

in a roasting pan and roast at 350F for 30 minutes. 
Turn the chicken over and roast for 30 minutes. 
Turn the oven to 400F and roast for 20 - 25 more minutes.  Skin should be golden brown and puffy. 
Remove, let rest for 5 - 10 minutes, then carve and serve with pan juices. 
For a thicker sauce/gravy: 
Pour 1/2 cup chicken stock into the roasting pan. 
Scrape up any brown bits and pour it all into a small saucepan. 
Bring to a boil over medium-high heat. 
Dissolve 1 tbs cornstarch in 1/2 cup chicken stock. 
Slowly pour into saucepan, stirring until clear and thickened to your liking.  Serve with chicken.
Mashed Cauliflower & Potato Medley
Total time: 30 minutes
    The addition of puréed cauliflower to mashed potatoes adds a lovely flavor and sweetness.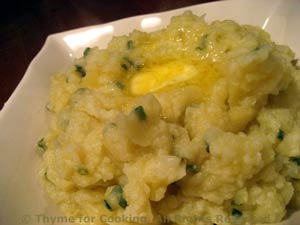 Ingredients:
1/3 head cauliflower
2 medium potatoes
1/8 - 1/3 cup milk
1 tbs butter
1 tbs dried parsley
 Instructions:
Cut cauliflower into large florets. 
Peel potatoes and cut into quarters.  
Cook potatoes and cauliflower in barely boiling water until very tender, about 30 minutes.  
When done, drain and put into a bowl. 
Add 1 tbs butter, parsley and mash with a potato masher or fork.  A few lumps are good.... 
Add milk, 1 tbs at a time, and stir / mash until you get the consistency you like. 
Mound into a bowl, put remaining 1 tbs butter on top and serve
Note:  Can be put into an oven proof serving dish, covered with foil and kept warm in 200F (100C) oven for 15 minutes.
Cooking Schedule: 80 minutes
Assemble all food, utensils and serving dishes
Utensils: measuring cups, spoons, knives,
large saucepan, lid, roasting pan, small saucepan
Turn oven on, 350F (175C)
Prepare chicken, wash, dry
Roll lemons, prick with toothpick
Put lemons in chicken, tie legs
Put chicken in pan, breast down, roast, set timer
    30 minute break
Turn chicken, set timer
   25 minute break
Cut cauliflower
Peel, cut potatoes

Increase oven to 400F (200C)
Put potatoes, cauliflower in saucepan
Cover pan, bring to a boil
Partially uncover, reduce heat and let cook
     Pause 20 minutes, while stuff cooks
Drain cauliflower/potatoes
Remove chicken, let rest
Add stock to roasting pan, scrape up brown bits
Put stock in saucepan, heat
Dissolve cornstarch in cold stock
Mash cauliflower/potatoes
Spoon into dish, add butter
Thicken sauce
Carve chicken, Serve