Chevre Stuffed Burgers
Sautéed Potatoes and Carrots
Cooking time:  30 minutes for menu           Cooking schedule: see below for instructions
      A barbecue-like sauce gives us a hint of summer.... Easy. mid-week dinner.
Chevre Stuffed Burgers
Total time: 25 minutes
    A bit of creamy goat cheese in the center keeps these burgers very moist and adds a lovely flavor.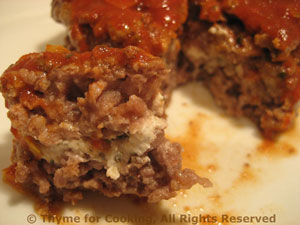 Ingredients:
12oz (360gr) ground beef
2 slices goat cheese (or any cheese you like)
1/2 tsp dried basil
1/4 tsp garlic powder
1 tbs oil
2 tbs ketchup
2 tsp Worcestershire sauce
1 tsp Dijon-style mustard
 Instructions:
Make 4 patties of the beef.
Trim cheese to fit, if needed, and place on 2 patties.
Sprinkle basil, garlic powder on cheese.
Place remaining 2 patties on top.  Work edges to seal.
Heat oil in nonstick skillet.  Add patties and fry, 5 - 8 minutes per side, depending on thickness.
In a small bowl mix ketchup, Worcestershire and mustard.
Spread on top of the burgers after turning. 
When done, remove and serve. 
Sautéed Potatoes and Carrots
Total time: 30 minutes 
      As carrots and potatoes cook in about the same amount of time, why not cook them together? I peel the carrots but only scrub the potatoes.  We use butter and oil together - the oil keeps the butter from burning, the butter adds flavor to the dish.
 Ingredients:
3 medium carrots
1 tsp butter
2 tsp olive oil
 Instructions:
Cooking schedule: 30 minutes
Assemble all food, utensils and serving dishes
Utensils: measuring cups, spoons, knives,
2 large skillets
Peel, slice carrots
Slice potatoes
Sauté potatoes, carrots
Make 4 thin patties of beef
Put cheese on 2 patties
Sprinkle basil, garlic powder on cheese

Top with 2 patties, seal
Turn/flip potatoes, carrots
Mix ketchup, Worcestershire, mustard
Sauté burgers
     Pause while stuff cooks
Turn/flip potatoes, carrots
Turn burgers, spread top with sauce
Turn/flip potatoes, carrots
     Pause while stuff cooks
When stuff is done.... Serve