Pizza Steaks
Parmesan Polenta
Brussels Sprouts with Lemon Butter
Cooking time:  35 minutes for menu       Cooking schedule: see below for instructions
      If you have tender steaks, cook them quickly.  For tougher cuts braise a bit longer - up to an hour. Use the drained tomato juices in the Lentil Soup.
Pizza Steaks
Total time: 25 minutes 
      A thick sauce of tomatoes and oregano lend the 'pizza' taste to these steaks.  You can simmer the steaks in the sauce for more flavor, if you like, be we prefer our steaks more on the medium rare side so we just spooned the sauce on top. 
 Ingredients:
 Instructions:
Chop onion; mince garlic.
Heat 1 tbs oil in small skillet over medium heat.  Add onion, cumin, paprika and sauté 5 minutes. 
Add garlic and sauté 5 minutes longer. 
Drain tomatoes, reserving juice for another use. 
Roughly chop tomatoes and add to skillet along with wine and oregano. 
Reduce heat and simmer for 10 minutes, until reduced and thickened. 
Meanwhile heat remaining tbs of oil in large nonstick skillet or grill pan over medium-high heat. 
Add steaks and fry quickly, 1 - 2 minutes per side, depending on thickness and desired degree of doneness. 
When done, put on small platter.  Spoon sauce over and serve.
Note:  If using a tougher cut, brown first, then add to sauce and simmer 15 - 45 minutes.
Parmesan Polenta
Total time: 10 minutes  
     Check the package directions for quantity proportion - you may have to add more (or less) liquid to get a soft consistency.  It can be adjusted at the end, before serving.   This should be like mashed potatoes.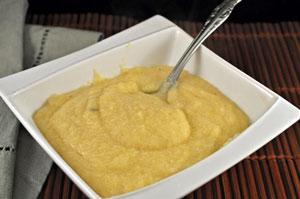 Ingredients:
1 cup (8oz, 240ml) chicken stock
1/4 cup (1.5oz, 45gr) polenta, quick-cooking
1/4 cup (1oz, 30gr) Parmesan, grated
2 tbs milk 
nutmeg
 Instructions:
Heat stock in a small sauce pan over medium heat. 
When stock is simmering slowly pour in polenta, whisking constantly.
Cook, stirring, about 5 minutes or until done.
Add milk or stock, Parmesan and a pinch of nutmeg. 
Cover, keep warm and let sit 5 minutes.  Serve.
Brussels Sprouts with Lemon Butter
Total time: 15 minutes 
    Lemon add a fresh taste to vegetables and goes well with thyme. The sprouts are cooked quickly to prevent the strong, bitter taste common to overcooked cruciferous vegetables.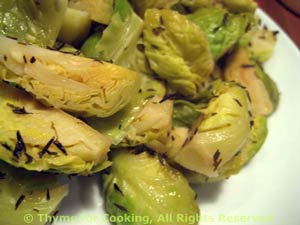 Ingredients:
 Instructions:
Trim Brussels sprouts: slice a bit off of the stem end and peel away the outer leaves - any that are damaged, wilted or discolored. 
Cut each sprout into quarters. 
Put the sprouts into a medium skillet, add water to the depth of 1/4" (.5cm), cover and cook until just tender when pierced with a knife, about 8 minutes.
Uncover and pour off water.
Return pan to heat and add butter.  Stir to coat sprouts and sauté 1 minute. 
Add herbs, lemon, salt & pepper and sauté, stirring for 1 minute longer.
Cooking Schedule: 35 minutes for menu
Assemble all food, utensils and serving dishes
Utensils: measuring cups, spoons, knives,
small saucepan, lid, 2 medium skillets, large skillet
Trim Brussels sprouts, cut
Grate Parmesan
Chop onion, mince garlic
Roughly chop tomatoes (reserve juices for soup)
Sauté onion, paprika for steak
Add garlic, sauté
Heat stock for polenta
Add cumin, paprika to skillet, sauté
Cook sprouts

Add tomatoes to skillet for pizza sauce, simmer
Stir polenta into stock, cook, stirring
Stir cheese, nutmeg, milk into polenta
Cover, keep warm
Heat skillet for steaks
Sauté steaks
Remove sprouts from pan, add butter
Turn steaks
Add lemon, herbs, sprouts to butter, sauté
Stir polenta, add stock if needed
Finish sprouts
Remove steaks, spoon sauce over (or next to)
Serve