Peppered Pork Tenderloin with Red Wine Reduction
Potato Feta Cakes
Braised Red Cabbage
Cooking time: 60 minutes for menu          Cooking schedule: see below for instructions
         We'll make the red cabbage with this dinner and have it again during the week  Plus it freezes well.  We'll use more feta during the week, also.
Peppered Pork Tenderloin in Red Wine Sauce
Total time: 30 minutes
    Remember that, while adding a lot of flavor, pepper can be quite hot.  Be a bit careful, particularly if you are grinding fresh peppercorns, as these will be hotter than the old stuff in the can in your pantry....
Ingredients:
12oz (360gr) pork tenderloin
2 tsp olive oil
1 clove garlic
1/2 - 1 tsp ground black pepper
2 tsp Dijon-style mustard
1 tsp tomato paste
1 tsp marjoram
1/2 cup (4oz, 120ml) beef stock
1/2 cup (4oz, 120ml) red wine
 Instructions:
Mince the garlic.
Slice the tenderloin into 1 inch (2.5 cm) thick slices.
Sprinkle the pepper evenly over each side of each piece, pressing it in. 
Heat oil in nonstick skillet over medium heat.  Add the pork and sauté for 5 minutes per side.
Add garlic, marjoram, mustard, tomato paste, stock and red wine to pan, reduce heat to low, cover and simmer 10 minutes.
Uncover and remove pork to a small platter, cover to keep warm.
Increase heat and boil sauce, for 2 minutes.   It should reduce and thicken a bit.
Spoon a bit of sauce over the pork and serve, remaining sauce on the side.
Potato and Feta Cakes
Total time: 40 minutes
   I like Potato Cakes well enough that I don't always wait for leftover mashed potatoes to make them. The potatoes only take about 12 minutes to cook, and they are a bit drier than traditional mashed, letting the cakes stay together well, even with the feta.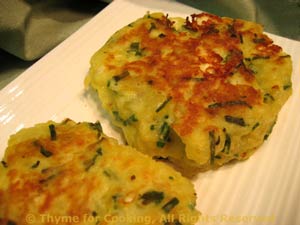 Ingredients:
2 medium potatoes, (12oz, 360gr)
3oz (90gr) feta cheese
2 tbs dried chives
1 egg
2 tsp milk
1 tbs olive oil
 Instructions:
Peel the potatoes and cut into chunks. 
Cook in rapidly boiling water until very tender, 12 - 15 minutes. 
Drain the potatoes and mash with a fork or potato masher. 
Spread the mashed potatoes on a plate to cool for 5 minutes. 
Cut or crumble feta into small pieces (pea size).
In medium bowl whisk egg, milk and chives. 
Add potatoes and mix well. 
Stir in feta. 
Divide into 4 equal portions. 
Heat oil in large nonstick skillet.  Add potato portions, forming into patties in the skillet, about 1/2" (1.25cm) thick. 
Fry until brown on one side, about 7 minutes.
Turn and brown the other side.  Remove and serve.
Red Cabbage
Total time: 60 minutes
     This is a wonderful, colorful side dish for fall and winter.  Red cabbage is the perfect, and traditional, accompaniment to game, roast goose and duck.  I also think it goes beautifully with pork.  This will make enough for 2 or 3 meals (maybe more, depending on the size of the head).  It freezes well if you have more than you want for this week.  Just thaw and reheat!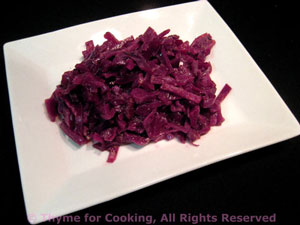 Ingredients:
1 medium - large head, red cabbage, 2 1/2 - 3lbs (1250  - 1500gr)
1 apple, Golden Delicious or Granny Smith
3oz (90gr) bacon, 3 - 4 slices
1 large onion
1/2 cup (4oz, 120ml) red wine
1/2 cup (4oz, 120ml) red wine vinegar - or cider
1/2 cup (4oz, 120ml) beef stock
1/2 cup (4oz, 120ml) apple juice
2 tbs brown sugar
 Instructions:
Slice the bacon into thin strips.  Sauté bacon over medium-high heat in a large saucepan, Dutch oven or soup pot, big enough to easily hold the all of the cabbage. 
Chop the onion and add to the bacon. 
Shred the cabbage by cutting a slice off of the side of the head, lay the slice cut side down and cut into 4ths, then, cutting across, slice 1/8 inch thick.  Do not use the core of the cabbage - you'll recognize it when you see it.  
When bacon is brown and onion tender add everything but the apple.  Stir well. 
Cover, reduce heat to low after about 5 minutes and simmer for 30 minutes. 

Peel and chop the apple and add to the cabbage.   Simmer another 15 - 20 minutes or until cabbage is very tender. 

It can be kept, covered, over low heat until needed, up to an hour longer.
Cooking Schedule: 60 minutes
Assemble all food, utensils and serving dishes
Utensils: measuring cups, spoons, knives,
heavy pot or Dutch oven with lid, medium skillet,
large nonstick skillet
Slice bacon
Sauté bacon for cabbage
Chop onion
Start to slice cabbage
Add onion to bacon, sauté
Finish slicing cabbage
Add cabbage to bacon, onion
Add wine, vinegar, stock, juice, sugar
Stir well, bring to a boil, cover, simmer
Peel, cut potatoes, boil
     15 minute break while stuff cooks

Drain potatoes, mash, cool
Slice pork, press in pepper
Sauté pork
Chop apple, add to cabbage
Mince garlic
Crumble feta
Whisk eggs, yogurt, chives
Add potatoes, feta, stir
Turn pork
In large skillet make and sauté potato cakes
Add remaining ingredients to pork, cover, simmer
    Pause while it all cooks
Turn potato cakes
Remove pork, reduce sauce, spoon over pork
Finish Potato Cakes
Serve all