Baked Salmon Dijon
Polenta Timbales
Broccoli with Cheese Sauce
Cooking time:  35 minutes for menu          Cooking schedule: see below for instructions
       The salmon is baked and the polenta and broccoli finished are in the oven. 
Baked Salmon Dijon 
Total time: 25 minutes
   We use fillets but salmon steaks will work.  Add another 5 - 10 minutes for steaks.  The mustard and cheese topping gets golden brown and the sharp flavor works well with the sweet salmon.
 Ingredients:
2 salmon fillets,  6oz (180gr) each
3 tbs mayonnaise
1 1/2 tbs Dijon-style mustard
2 tbs Parmesan
Olive oil for coating pan
 Instructions:
Mix all of the above (except salmon). 
Put salmon on lightly oiled baking sheet. 
Divide mixture evenly and spread over salmon. 
Bake at 400 F for 15 - 17 minutes, until top is light brown and fish flakes easily.
Serve.
Note:  For easy clean up cover pan with foil first.  This is especially nice if you are using fillets with the skin on.  You can carefully lift the salmon off the skin to serve, leaving the skin on the foil.  Then wrap the whole mess up and toss. 
Polenta and Cheese Timbales
Total time: 35 minutes  with quick cooking polenta  
    These slip out of the ramekins easily but still hold their shape making for a very pretty presentation. The Caramelized Shallots add an unexpected crunch!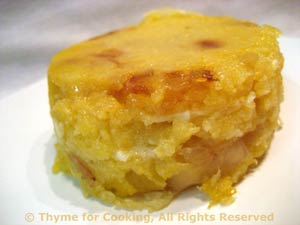 Ingredients:
 Instructions:
Clean and slice shallots. 
Heat oil in medium nonstick skillet over medium-high heat.  Add shallots and sauté until tender, about 5 minutes. 
Turn heat down to medium and continue cooking until nicely brown and starting to caramelize.
Heat stock to boiling in a small saucepan. 
Add polenta, whisking constantly - or it will have little volcanic eruptions spewing polenta all over your stove. 
Turn heat down and cook about 5 minutes (or whatever your package tells you), stirring constantly.  You may have to switch to a wooden spoon. 
When done, remove from heat and stir in caramelized shallots. 
Put 1 tsp oil in each of 2 ramekins; brush around the bottom and sides. 
Divide 1/3 of the polenta evenly between the 2 ramekins. 
Sprinkle each with 1/3 of the cheese, divided. 
Repeat these 2 layers twice more, ending with the cheese on top. 
Place ramekins on a baking sheet, cover loosely with foil, and bake for 10 minutes, 400F (200C). 
Uncover and bake 10 minutes longer. 
Remove and let rest a minutes or two. 
Run a knife around the edges of the ramekin.  Put a plate on top and tip over, releasing the timbale onto the plate.  Serve.
Note:  I'm assuming that your ramekins hold app. 1 cup (8oz, 225ml).  If they are smaller, you may need to make a third ramekin to use all of the polenta - and share it....
Broccoli Cheese
Total time: 30 minutes
  This is based on the very popular British comfort food 'Cauliflower Cheese', but a bit lighter.  Like some other cruciferous vegetables (Brussels Sprouts) broccoli is best if not overcooked.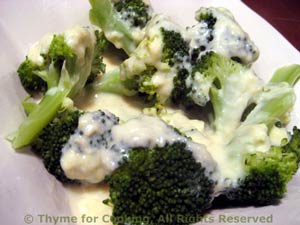 Ingredients:
 Instructions:
Cut broccoli into bite size florets and stems. 
Put in steamer basket in saucepan with an inch of water in bottom. 
Put on medium heat and steam for 10 minutes or just until barely tender.  Remove from pan and keep warm. 
In same pan, if not too large, or a small saucepan, melt butter. 
Add flour and cook, stirring with a whisk or fork. 
Slowly add milk, stirring constantly until you have a thick sauce. 
Stir in cheese and heat until just melted. 
Pour over broccoli and serve immediately.
Or arrange broccoli in an oven-proof casserole or serving dish. Pour cheese sauce evenly over top and place in a warm oven for 10 - 15 minutes. (250F, 125C). 
Cooking Schedule: 35 minutes
Assemble all food, utensils and serving dishes
Utensils: measuring cups, spoons, knives,
small saucepan, medium saucepan with lid and
steamer basket, 2 baking sheets, ramekins, small
casserole or oven-proof serving dish, foil
Turn the oven on, 400F (200C); arrange 2 shelves
Slice shallots, sauté for polenta
Heat stock for polenta
Put fish on baking sheet
Mix Dijon topping for salmon, spread on fish
Mind the shallots
Shred cheese if needed
Make polenta, stir in shallots

Assemble ramekins
Put ramekins on baking sheet, cover, bake
Bake salmon
Clean, cut broccoli, steam
    Pause whilst stuff cooks
Remove foil from polenta
Remove broccoli, put in baking dish, cover with foil
Make cheese sauce, pour over broccoli, cover
Remove polenta, let rest
Put broccoli in oven
Remove timbales from ramekins, arrange on plates
Remove fish, slip off skin if needed, add to plates
Remove broccoli
Serve