Slow-Roasted Moroccan Leg of Lamb
Asparagus with Olive Oil and Green Garlic
Cooking time:  3 1/2 hours for menu       Cooking schedule: see below for instructions
          This is the best leg of lamb I have ever made - or eaten.  It's roasted slowly and gets very tender. With the potatoes roasted with the lamb this Easter Dinner is very little work.  If you want a faster-cooking Leg of Lamb try Lamb with Garlic or Lamb on Potatoes.
Slow-Roasted Moroccan Leg of Lamb
Total time: 3 hours 30 minutes 
    This is started hot, to brown the crust, then finished slowly.  It remains a lovely rose when sliced... and the crust is fantastic.... The best lamb I've had. This will easily serve 4 - 6.  Add more potatoes. Get a larger leg (and more potatoes) to serve more.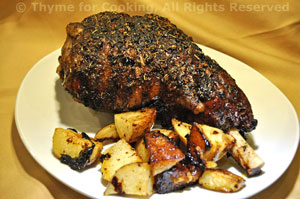 Ingredients:
2lb leg of lamb
2 tbs soft butter
2 tbs olive oil
2 tsp cumin
2 tsp paprika
2 tsp rosemary
3 cloves garlic, crushed
2 medium potatoes  
 Instructions:
Make a paste of the butter, oil, cumin, paprika, rosemary and garlic.
With a sharp knife make slits all over the lamb.
Spread the paste on the lamb, covering it as best you can. 
Roast for 10 minutes at 425F (220C). 
Reduce temperature to 315F (160C) and roast for 3 hours, basting with pan juices every 30 minutes.
45 minutes before lamb is set to be done cut potatoes into large chunks and add to roasting pan, stir to coat with pan juices and continue to roast.

To serve:

Remove lamb and allow to rest for 10 - 15 minutes before carving. 
Put potatoes back into oven, (turn oven off) to keep warm.
When ready, slice lamb, arrange on platter with potatoes.
Asparagus with Olive Oil and Green Garlic 
Total time: 25 minutes
     Normally, I just do this with fresh, snipped chives, but, as long as I had the green garlic, why not?  Use chives if you don't have it. Be careful not to cook the asparagus too long, it should be just tender when pierced with a knife. Lay asparagus flat to peel, as it tend to snap easily.
 Ingredients:
 Instructions:
Snap off ends of asparagus. 
If your asparagus is very thick or it's white use vegetable peeler and peel the bottom half of stalk. 
Put into a skillet big enough to hold them without cutting, add water to cover bottom by 1/4 inch, cover and bring to boil.
Lower heat and cook just until done, 8 - 12 minutes, longer for white, adding a bit of water as needed.
When done drain and put into a serving dish.
Return the skillet to heat and melt the butter.
Trim green garlic, slicing off the root and removing 1 layer.
Thinly slice as much as you can, including the green tops. 

  OR

snip the chives. 
Add to melted butter. 
Sauté 30 seconds and add asparagus. 
Sauté until heated through, put back onto serving dish and serve - adding salt and pepper if desired.
Cooking Schedule: 3 1/2 hours for menu
Assemble all ingredients and utensils
Utensils: measuring cups, spoons, knives,
saucepan for soup, roasting pan, large skillet. lid,
foil
Turn oven on 425F (220C)
Peel garlic, crush
Make paste of butter, oil, spices, herbs, garlic
Make slits in lamb, rub paste all over
When oven is hot, roast lamb
After 10 minutes reduce heat to 315F (160C)
     30 minute break
Baste lamb with pan juices
     Continue to baste every 30 minutes
     45 minutes before lamb is done:
Scrub potatoes, cut

Remove lamb, add potatoes, baste lamb, potatoes
Return lamb, potatoes to oven  
    30 minute break
Trim asparagus, peel if needed
Cook asparagus
Remove lamb, cover loosely, let rest
Either return potatoes to oven or cover along with lamb
Trim green garlic, slice - or snip chives
    Pause while stuff cooks
Remove asparagus, drain, return skillet to heat
Add butter to skillet
Add green garlic / chives
Add asparagus, sauté
Slice lamb, arrange lamb, potatoes on platter
Finish asparagus
Serve and enjoy!