Tomatoes Stuffed with Sausage
Veal Chops Duxelles
Potatoes a la Two Fat Ladies
Wilted Spinach with Bacon and Onion
Cooking time:  75 minutes for menu          Cooking schedule: see below for instructions
       We just need a small amount of sausage for the tomatoes.  Buy a larger package and freeze the rest; we'll use it in a week or two.  Try to get a variety of forest mushrooms for the Duxelles, the season is in full swing where I live.  One last fling with the fresh herbs....  Some things are hard to let go of! Both the potatoes and any leftover Duxelles sauce will be used on Monday.
Baked Tomatoes Stuffed with Sausage 
Total time: 35 minutes 
   If you can't find bulk sausage, get regular sausages and squeeze the meat out of the casing of 1 or 2. I put a bit of cheese in the bottom of these, it melts into the tomato, absorbing some of the juice.
 Ingredients:
2 large garden fresh tomatoes, 7 - 8 oz each (225gr each)
3oz (90gr) Italian sausage or ground beef
1 tsp olive oil
1/2 tsp dried oregano
1/2 tsp paprika
1/4 cup (1oz, 30gr) shredded cheese
fresh basil leave for garnish (and nibbling) if you have them
 Instructions:
Heat oil in medium nonstick skillet.  Add paprika and sauté 30 seconds. 
Add oregano, sausage and sauté until it's brown, breaking it up as finely as you can. 
Slice the tops off of the tomatoes and scoop out the center, 1 1/4" - 1 1/2" (4cm) deep. 
Put a bit of cheese in the bottom of each tomato. 
Spoon meat mixture on top of the cheese, dividing evenly. 
Put into a small, shallow baking dish and bake at 400F  (200C) for 15 minutes, until tomatoes are hot and sausage is browning. 
Remove, sprinkle remaining cheese on top of each tomato. 
Return to oven until cheese melts, about 5 minutes. 
Remove and serve.
Veal Chops Duxelles
Total time: 35 minutes 
   Fall is the perfect time to make the classic Duxelles or minced mushrooms sauce. With shallots, a bit of wine and tomato, this is excellent to serve with veal chops or chicken breasts.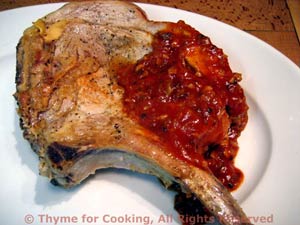 Ingredients:
 Instructions:
Potato Gratin with Herbs and Garlic
(The Two Fat Ladies)
Total time: 1 hour 15 minutes
    This is something I watched "The Two Fat Ladies" do on their cooking show.  Perfect for late summer, flavored with lots of fresh herbs and garlic; I hope I can do them as well as Jennifer. You can modify the herbs to suit your taste, just use lots!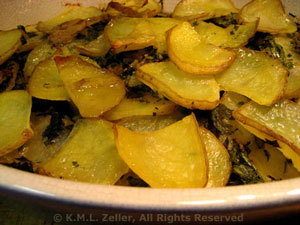 Ingredients:
 Instructions:
With a sharp knife thinly slice the potatoes. 
Put slices in a large bowl of cool water and set aside.
Chop or snip herbs. 
Finely chop garlic and mix together with chopped herbs. 
Remove potatoes from water, lay out on kitchen (paper) towels and pat dry. 
Drizzle a bit of the oil in a glass baking dish, just large enough to hold ingredients. 
Make a layer of potatoes, sprinkle with a bit of the herb/garlic mixture and drizzle with a little oil. 
Repeat 4 more times. 
Pour the stock over all, cover with foil and bake at 400F (200C) for 30 minutes. 
Remove foil and continue baking another 30 minutes.  Top potatoes should start to brown and get crisp. 
Remove from oven and serve.
Note:  I use a scissors to snip the herbs first and use the flat of a large knife to smash the garlic. Then combine the herbs and garlic and chop finely, using a large knife in a 'rocking' motion.
Wilted Spinach with Bacon and Onion
Total time: 15 minutes 
    One of my favorite ways to eat fresh spinach: tossed with bacon and onion and a dash of vinegar.  Be careful not to cook the spinach too long; it quickly goes from just wilting to fully cooked and limp.  You want it to still look like spinach leaves!
 Ingredients:
6oz (180gr) fresh spinach
1/2 onion
2 slices bacon
2 tsp cider vinegar
 Instructions:
Wash and stem spinach if needed.  Drain in a colander.  If you don't feel you need to wash it - do it anyway.  We want a little bit of water on the leaves - what ever is left after draining well - and shake them around a bit, too. 
Chop the onion. 
Sauté bacon in medium nonstick skillet over medium heat until crisp. Remove and crumble. 
Add onion and sauté until tender and starting to brown, 7 - 10 minutes. 
Add spinach and stir fry for 1 - 2 minutes, just until spinach starts to wilt. 
Add crumbled bacon, sprinkle with vinegar and serve.
Cooking Schedule: 75 minutes
Assemble all food, utensils and serving dishes
Utensils: measuring cups, spoons, knives,
scissors, small skillet, baking dishes for tomatoes,
potatoes, medium bowl, large nonstick skillet, 2
medium skillets
Turn oven on, 400F (200C), arrange 2 shelves
Thinly slice potatoes, put in water
Snip herbs, smash garlic
Finely chop herbs, garlic
Drain potatoes, pat dry
Assemble potato dish
Bake potatoes
   20 minute break
Prepare tomatoes
Sauté paprika
Add sausage, sauté
Clean, chop shallots
Clean, chop mushrooms
Sauté shallots, mushrooms
Stuff tomatoes, bake
Uncover potatoes
Wash spinach

Chop onion
Add wine to shallot/mushroom, reduce
Sauté bacon
Add stock, tomato, herbs to mushrooms
Turn bacon
Dissolve cornstarch in water, thicken Duxelles
Cover Duxelles, remove from heat
Remove bacon, add onion, turn off heat
Remove tomatoes
Serve tomatoes, relax and enjoy
Done?
Heat skillet for chops
Put skillet with onions on heat
Sauté chops
Gently reheat Duxelles if needed
Crumble bacon
Turn chops
Add spinach to onion, stir-fry
Cover chops to finish
Remove potatoes
Finish spinach
Put chops on plates, add Duxelles sauce
Serve