Stuffed Acorn Squash with Ham and Quinoa
Cooking time:  35 - 60 minutes for menu          Cooking schedule: see below for instructions
        As long as we're at the deli counter getting ham, might as well get enough for this.  Acorn squash is perfect for stuffing:  they're small with a large, hollow center.  1 squash is a perfect size for 2 people. South American quinoa makes this a very 'new world' dish.
Stuffed Acorn Squash with Ham and Quinoa
Total time: 60 minutes, 35 if you use a microwave 
     The squash bakes while the stuffing is prepared and just needs 10 minutes to finish.  I usually can't get all of the stuffing in, so I keep it warm and serve it on the side.  The salty ham and slightly crunchy quinoa contrast well with the sweet squash.  And, yes, the mustard works too!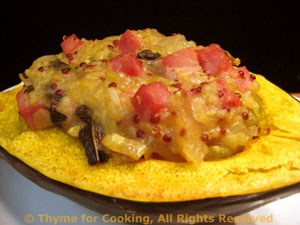 Ingredients:
1 acorn squash
1/2 cup (3.5oz, 100gr) quinoa
1 cup (8oz, 240ml) chicken stock
8oz (240gr) slice baked or deli-style ham
1 onion
2 cloves garlic
1 rib celery  

optional

1 tbs olive oil
1/2 cup (4oz, 120ml) chicken stock
1 tbs Dijon mustard
2 tbs fresh sage    

substitute 1 tbs dried, crumbled

1 1/2 tbs cornstarch (corn flour, maizena) dissolved in 2 tbs wate

r
 Instructions:
Cut squash in half and scoop out seeds.  Either place face down on tray and microwave for 10 - 12 minutes or put into a baking dish, cover with foil and bake in 400F (200C) oven for 40 minutes. 
While squash cooks: 
Cook the quinoa in chicken stock 15 minutes or according to your package directions, until all liquid is absorbed and it's done.  (Check your package directions for correct quantity of stock and cooking times.)
Chop the onion and celery; mince the garlic. 
Heat the oil in a nonstick skillet over medium heat. 
Sauté the onion and celery 5 minutes then add the garlic.  Sauté 5 more minutes or until onion and celery are tender and starting to brown. 
Cut the ham into small cubes, about 1/3" (1cm). 
Add ham and sage and sauté until ham starts to brown.  
Add mustard and chicken stock and stir well to combine. 
Dissolve cornstarch in stock. 
When ham mixture is simmering stir cornstarch in, a little at a time.  (You may not need it all).  You want it very thick but not paste. 
When quinoa is done add it to ham mixture and stir to combine. 
To assemble:
When squash are ready (they should be tender, almost done) remove from wherever they cooked and fill with the quinoa/ham mixture. 
Bake (not microwave for this last bit) uncovered for 10 minutes, until heated through and squash is done.
Cooking Schedule: 35 - 60 minutes
Assemble all ingredients and utensils
Utensils: measuring cups, spoons, knives,
large skillet, small saucepan with lid, baking dish,
plate if using microwave
Turn oven on, 400F (200C)
Cut squash, scoop out seeds, cook - either method
Start to cook quinoa
Chop onion, celery, sauté

Mince garlic, add to onion/celery
Cut ham
Add ham, sage to onion/celery
Add mustard, stock, stir well, bring to boil
Dissolve cornstarch in stock, thicken ham mixture
Add quinoa, stir to combine
When squash is ready, stuff and bake
    Pause while it bakes
Remove squash and serve