Turkey Cutlets with Mustard Onion Pan Sauce
Basmati Rice with Green Garlic
Sautéed Asparagus in Butter and Oil
Cooking time: 30 minutes for menu        Cooking schedule: see below for instructions
     You could chicken breasts or turkey tenderloin if you prefer.
Turkey Cutlets with Mustard and Onion Pan Sauce
Total time: 25 minutes
  Turkey Cutlets with whole grain mustard and onions - simple, but full of flavor.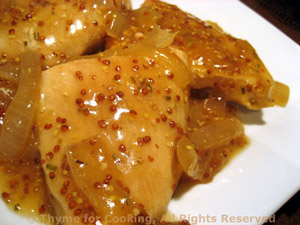 Ingredients:
2 - 4 turkey cutlets, 12oz, (360gr)
1 medium onion
2 cloves garlic
2 tsp olive oil
2 tbs whole grain mustard
1/3 (3oz, 90ml) white wine
1/3 (3oz, 90ml) chicken stock
2 tsp white Balsamic vinegar
 Instructions:
Vertically slice onion.
Mince garlic. 
Cut turkey into manageable pieces if needed. 
Sauté onion in oil in nonstick skillet over medium-high heat. 
When onion starts to brown, move it to the sides of the pan and sauté turkey cutlets until lightly browned. 
Add garlic and sauté briefly. 
Add mustard, chicken stock and wine.  Stir to combine. 
Cover, reduce heat and simmer until done, about 10 minutes. 
Uncover, stir in vinegar, and let cook uncovered until sauce is thick.  Serve.
Basmati Rice with Green Garlic
Total time: 20 minutes  
       The mild taste of green garlic adds a spring freshness to simple Basmati rice.  Use as much of the green tops as you can.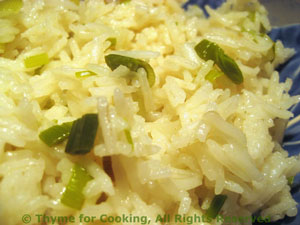 Ingredients:
 Instructions:
Trim and slice green garlic / onion and garlic. 
Melt butter in a small saucepan over medium heat. 
Add green garlic / onion and garlic, sauté briefly, 1 - 2 minutes. 
Add rice and sauté, stirring for 1 - 2 minutes. 
Add stock, cover and cook for length of time on package. 
When done fluff with a fork and serve.
Sautéed Asparagus in Butter and Pepper
Total time: 15 minutes 
  Asparagus is one of the long awaited signs of spring.  Most often steamed, occasionally roasted or grilled, I have discovered simple frying to be quick, and leave the asparagus a beautiful green color and full of flavor.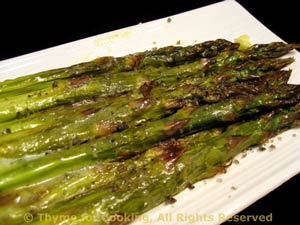 Ingredients:
8oz (240gr) asparagus
1 tbs butter
1 tbs olive oil
pepper
sea salt
 Instructions:
Snap off ends of asparagus.  If white use vegetable peeler and peel the bottom half of stalk. 
Put asparagus into a skillet big enough to hold them without cutting, add butter, oil and sauté over medium heat until starting to brown and blister, 8 - 10 minutes. 
Sprinkle with lots of pepper, salt, remove and serve.
Cooking schedule: 30 minutes
Assemble all food, utensils and serving dishes
Utensils: measuring cups, spoons, knives,
2 medium skillets, one lid, small saucepan with lid
Slice onion, sauté
Slice green garlic / onion
Mince garlic
Cut turkey if needed
Sauté green garlic / onion, garlic for rice
Move onion to side, sauté turkey
Trim asparagus

Add rice to green garlic / onion, sauté
Add stock to rice, cover, simmer
Turn turkey, add garlic
Add mustard, stock, wine, stir, cover, simmer
Sauté asparagus
    Pause while everything cooks
Mind the asparagus
Uncover turkey, add vinegar, reduce
Fluff rice
Finish asparagus
Serve