Chicken Breasts Balsamic
Quinoa
Broccoli with Green Garlic
Cooking time:  30 minutes for menu           Cooking schedule: see below for instructions
      Use whatever onion you have left.  Quinoa comes in tan, red and black, but there is no appreciable difference in taste or cooking times.
Chicken Breasts Balsamic
Total time: 25 minutes
    The little bit of brown sugar tempers the vinegar nicely.  If you don't have Balsamic you can use sherry or red wine vinegar - but increase the sugar to 2 tsp.  I cut the chicken breasts in half for a nicer serving portion.
 Ingredients:
 Instructions:
Finely chop onion and mince garlic. 
Heat oil in medium nonstick skillet over medium-high heat. 
Add chicken breasts and brown on both sides, about 10 minutes. 
Add onion and garlic and sauté 5 minutes longer. 
Add stock, vinegar and sugar, cover, reduce heat and simmer 10 minutes. 
Thicken sauce with cornstarch mixture (you may not need all of it) and serve.
Quinoa
Total time: 20 minutes
    Quinoa is very high in protein and "contains a balanced set of essential amino acids for humans, making it an unusually complete food" according to Wikipedia.  It's also easy to cook and tasty - what more could we want? You can substitute Basmati or Jasmine rice.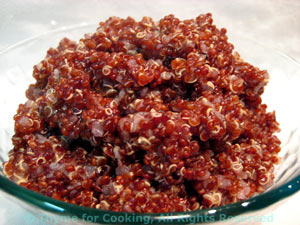 Ingredients:
1/2 cup (3.5oz, 100gr) quinoa
1 cup (8oz, 240ml) chicken stock
 Instructions:
Rinse quinoa if needed (most comes washed). 
Combine quinoa and stock in small saucepan.  Cover and bring to a boil. 
Reduce heat and simmer until done, about 15 minutes  (or whatever your package says).   Serve.
Note: Quinoa comes in black, red and tan.....  At least that's all I've found to date...
Broccoli with Green Garlic
Total time: 20 minutes 
     Green garlic and olive oil are a simple finish with fresh, spring flavors.
 Ingredients:
1/2 head broccoli  
1 tbs olive oil

3 green garlic  

substitute 2 green onions, sliced, and 1 clove garlic, minced
 Instructions:
Cut broccoli into bite size florets and stems. 
Put in steamer basket in saucepan with an inch of water in bottom.  Put on medium heat and steam for 10 - 12 minutes or just until done, careful not to overcook. 
Remove from pan and set aside, discarding water. 
In the same pan heat olive oil. 
Trim and slice the green garlic.  Add to oil and sauté just until tender, about 3 minutes. 
Add broccoli and toss well to coat.  Serve.
Cooking schedule: 30 minutes
Assemble all food, utensils and serving dishes
Utensils: measuring cups, spoons, knives,
medium skillet with lid, small saucepan with lid,
medium saucepan with steamer basket and lid
Brown chicken breasts
Chop onion
Mince all garlic
Slice green garlic / onion
Cut broccoli, steam
Turn chicken breasts

Cook quinoa
Add onion, garlic to chicken
Add vinegar, stock, sugar to chicken, cover, simmer
Dissolve cornstarch in stock, set aside
     Pause while stuff cooks
Remove broccoli, empty pan
Sauté green garlic / onion, garlic
Thicken sauce for chicken
Fluff quinoa
Add broccoli to green garlic / onion, heat through
Serve