Cold Salmon Salad
Grilled Lamb Chops with Lemon and Rosemary
Roasted Potatoes with Vinegar and Mustard
Baked Zucchini (Courgette) Sticks
Cooking time: 40 minutes for menu      Cooking schedule: see below for instructions
       An easy, relaxing dinner. I did the Zucchini Sticks and Potatoes in the oven - easy, and the oven doesn't add heat to the kitchen like the cook top does. The rest of the dressing will be used in the salad on Tuesday.
Cold Salmon Salad
Total time: 10 minutes
    You can buy smoked salmon, either dry or moist, or use home-smoked.  You could also use cold, leftover grilled or poached salmon.  It makes a light, healthy first course.  For a light lunch, add a boiled egg, and a bit more tomato and some country bread. 
 Ingredients:
6oz (180gr) smoked or poached salmon filet
1 large, ripe tomato
2oz (60gr) feta cheese
black pepper
Lettuce - enough for 2 small salads
Creamy Herb Dressing:
1/2 cup (4oz, 120gr) Greek or plain yogurt
1 tbs Dijon-style mustard
1 tbs lemon juice
1 tbs fresh snipped chives      

  Substitute 2 tsp dried

1 tbs fresh snipped tarragon   

Substitute 2 tsp dried

2 tbs good olive oil
 Instructions:
Creamy Herb Dressing:
In small bowl whisk yogurt, mustard and lemon juice. 
Add oil, a bit at a time and whisk well. 
Add herbs. 

This will keep a week

Salad:
Prepare lettuce - wash and spin dry. 
Tear lettuce and put into a medium bowl. 
Add 1 - 2 tbs dressing and toss to coat. 
Arrange on 2 plates. 
Slice tomato and arrange around lettuce. 
Cut or crumble feta and add to plates. 
Flake or cut salmon and add to salads, arranging nicely. 
Drizzle with a bit more dressing. 
Sprinkle with pepper and serve.
Grilled Lamb Chops with Lemon and Rosemary
Total time: 35 minutes
    Is there a better match than lamb and rosemary?  This simple marinade, with a bit of soy sauce and garlic, imparts a lot of complex flavors to our lamb chops.  Great grilled but equally good done indoors.  A grill pan for your stove top is nice but a hot nonstick skillet works fine.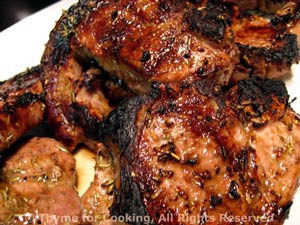 Ingredients:
4 - 6 center-cut lamb chops - depending on size
2 tbs lemon juice
1 tbs soy sauce
2 tbs oil
1/2 tsp garlic powder
2 tsp rosemary
 Instructions:
Mix lemon juice, soy sauce, oil, garlic powder and rosemary. 
Pour over lamb chops and allow to marinate for 15 - 30 minutes. 
Remove chops and discard marinade. 
Either cook on barbecue grill or in a non-stick skillet over medium-high heat.  In either case you will cook chops for 2 - 5 minutes a side depending on thickness and desired degree of doneness (I don't know if that is a word - but you get the idea).  We do ours on a hot grill 2 minutes a side for medium rare.  When you think they might be close take one off, cut into center and peak.  You can always put them back on to cook more - you cannot undo... When done to your liking remove from heat and serve.
Roasted Potatoes with Vinegar and Mustard
Total time: 35 minutes 
    We grill potatoes a lot in summer; with a lot of variations.... This one is almost like a hot potato salad.
 Ingredients:
10 - 18 new potatoes or 2 medium potatoes
2 tbs Dijon-style mustard
1 tbs white Balsamic vinegar
1 tbs olive oil
1/2 tsp garlic powder
1 tsp Herbes de Provence
 Instructions:
Cut potatoes in half the long way and then in thirds the short way.
Put mustard, olive oil, vinegar, garlic and herbes in a medium bowl, and whisk well; it will be very thick.
Add potatoes and toss well to coat.
Put them in an old 'for barbecue only' metal pan and cook over direct heat on the barbecue, stirring frequently until brown and done, 20 - 25 minutes.
OR over indirect heat for 35 - 40 minutes, stirring occasionally.
You can also put them in the oven on a baking sheet with lip (trusty round pizza pan) and bake at 400F (200C) for 30 minutes.  

Remove from pan and serve. 

These stay hot so a 10 minute delay is okay.
Baked Zucchini (Courgette) Sticks
Total time: 40 minutes  
    These are quickly prepared; bake, unattended and end with a nice crunch.  Easy peasy! And one can't have too many zucchini recipes in summer!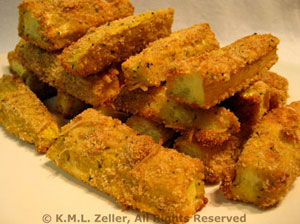 Ingredients:
  Instructions:
Wash zucchini and slice off stem and blossom ends. 
Cut it in half or thirds the short way.  You want pieces 2 - 3" long (5 - 8cm). 
Cut each section into sticks about 5/8" (1cm) square.  They won't all be perfect, coming from a round vegetable, but close is good. 
In a flattish bowl whisk the mustard and the egg together. 
In another flattish bowl or plate mix the crumbs and cheese together.
Roll the zucchini sticks in the egg, then the crumbs. 
Place on a nonstick baking sheet. 
Bake at 400F (200C) for 35 minutes, until coating starts to brown.
Remove and serve.
Cooking Schedule: 40 minutes
Assemble all food, utensils and serving dishes
Utensils: measuring cups, spoons, knives,
scissors, whisk, 2 small bowls, 2 flattish bowls,
medium bowl, 2 baking sheets, dish for marinating,
barbecue grill and tools or skillet for chops
Turn on oven 400F (200C), arrange 2 shelves
Whisk egg, mustard
Mix crumbs, Parmesan
Cut zucchini into sticks
Roll zucchini sticks in egg, then crumb mixture
Start to bake zucchini
Mix vinegar/mustard, etc. for potatoes
Cut potatoes, add to vinegar/mustard, stir to coat
Arrange on baking sheet, bake
Mix marinade for lamb chops, pour over

Turn on/light barbecue grill
Prepare lettuce
Snip herbs
Make Dressing
Cut feta, slice tomatoes
Flake/cut salmon
Toss lettuce with some dressing, put on plates
Assemble salad, arranging nicely
Drizzle with dressing and serve
Relax, enjoy
Done?
Check on zucchini, potatoes
Grill chops when ready
Remove zucchini, potatoes
Turn chops
Serve all and enjoy