Orange Glazed Turkey Cutlets
Grilled Potatoes and Onions
Lettuce, Walnut, and White Bean Salad
Cooking time: 35 minutes for menu      Cooking schedule: see below for instructions
     We're having a side salad, with the addition of beans, as our vegetable... Easy summer cooking.  This will use the rest of the Creamy Dressing From Saturday.  If you can't get turkey cutlets, use sliced turkey tenderloin or chicken breasts.
Orange Glazed Turkey Cutlets
Total time: 25 minutes
    We don't eat orange marmalade on toast... But I love it for making marinades.  (And Lemon and Grapefruit, as well.)  It adds a caramel-like sweetness when cooked on the barbecue.  If you don't have any sherry in the pantry you can use white or rosé wine or 1tbs more sherry vinegar.
 Ingredients:
 Instructions:
Whisk together all ingredients (except turkey). 
Spoon over turkey and let marinate for 10 - 15 minutes. 
Remove from marinade and cook on barbecue grill for 4 - 6 minutes per side or until done, basting before turning with marinade. 
OR sauté in nonstick skillet for 4 - 6 minutes a side or until done. 
Remove and serve.
Grilled Potatoes and Onions
Total time: 35 minutes  
  Sweet or red onions add a wonderful flavor to simple grilled potatoes.  With the mustard and vinegar this is almost a hot salad... and perfect with simple grilled meats.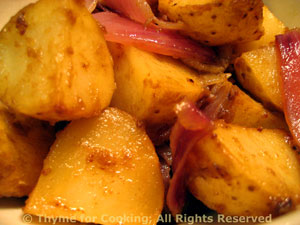 Ingredients:
2 potatoes
1 sweet or red onion
1 tbs Balsamic vinegar
1 tbs Dijon mustard
2 tbs olive oil
 Instructions:
Slice potatoes - the long way, first in half, then in half again, then in thirds or fourths the short way. (potatoes for roasting). 
Cut onion into quarters. 
In medium bowl mix vinegar, mustard and oil. 
Add vegetables and toss to coat.  Put them into a grill pan and cook on barbecue (grill) for 20 - 30 minutes or until done... and you will need to stir them with a long-handled wooden spoon occasionally as they tend to develop 'hot spots' and can get a little crispy. 

Or

you can roast them in the oven.  Arrange potatoes and onions on baking sheet with rim (I use my trusty, round pizza pan) Bake at 400F for 30 minutes.  
Remove and serve.
Lettuce, Walnut, and White Bean Salad
Total time: 10 minutes  
   A small side salad to round out the meal.  You can add bits of anything you have on hand: tomato, pepper, onion.  Walnuts are such a good source of Omega-3 that I like to use them often.
 Ingredients:
lettuce, enough for two small salads
7oz (210gr) white beans
1/3 cup creamy herb dressing 
1/4 cup (.5oz, 30gr) shredded cheese - any flavor
1/4 cup (1oz, 30gr) walnuts halves 
 Instructions
Prepare lettuce and put into a medium bowl. 
Add a bit of dressing and toss to coat (use tongs, it's easier). 
Taste and add more dressing if desired. 
Add, beans, cheese and walnuts, give it another toss or two and serve, extra dressing on the side.
Cooking schedule: 35 minutes
Assemble all food, utensils and serving dishes
Utensils: measuring cups, spoons, knives,
whisk, small bowl, dish to marinate, medium bowl,
salad bowl, barbecue grill, grill pan and tools, salad
spinner
Turn on/light barbecue grill
Make marinade, spoon over turkey
Cut potatoes, onions
Mix vinegar, mustard, oil
Add potatoes, onions, stir well

Put potatoes, onions in grill pan, cook
    Pause while potatoes, onions cook
Mind the potatoes
Remove turkey from marinade, cook
Prepare lettuce
Turn turkey
Drain, rinse beans
Toss lettuce with some dressing
Remove potatoes, turkey
Add beans, cheese, walnuts to salad, toss
Serve