Grilled Sausages
Potato and Green Bean Packets
Cooking time: 30 minutes for menu      Cooking schedule: see below for instructions
     This is summer cooking at it's easiest - all done on the barbecue with minimum effort.
Grilled Sausages
Total time: 15 minutes
  There is such a variety of sausage available, you can grill them often and never repeat.  Duck, turkey, chicken, beef as well as pork, hot, mild, smoked or not.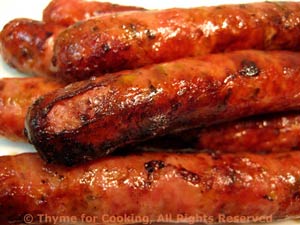 Ingredients:
4 - sausages, depending on size,  12oz total weight (360gr)  
 Instructions:
This is really a tough one  - cook them on the barbecue grill (or sauté them) until done.  Serve.
Potato and Green Bean Packets 
Total time: 30 minutes 
    Vegetable packets are great for using up leftover bits in the fridge: carrots, celery, mushrooms, tomatoes...  They are cooking when you hear them sizzle, and are done when you can't hear them any longer.  They stay very hot in the packets, and can even be taken off early and left to finish off heat.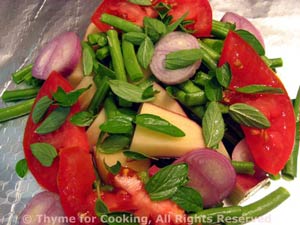 Ingredients:
2 medium potatoes

6oz (180gr) green beans
2 shallots or 1 small onion
1 tomato or 4 cherry tomatoes
2 tbs chicken stock or water
1 tbs basil
 Instructions:
Cooking schedule: 30 minutes
Assemble all food, utensils and serving dishes
Utensils: measuring cups, spoons, knives,
2 plates, foil, barbecue grill
Light/turn on barbecue grill
Tear off foil, place on plates
Cut potatoes, divide, place on foil
Trim, cut beans, divide, place on foil
Cut onion, divide, place on foil
Cut tomatoes, divide, place on foil


Snip herbs, divide, place on foil
Add stock or water, dividing
Fold packets, place on grill
    Pause while they cook
Cook sausages
    Pause while it all cooks
Mind the sausages
When vegetables stop sizzling - check
Remove from foil, put on plates
Remove sausages, Serve