Grilled Chicken Breasts with Pimiento Sauce
Oriental Pasta Salad
Cooking time: 30 minutes for menu      Cooking schedule: see below for instructions
     With leftover Pimento Sauce and Pasta salad - another easy summer dinner.
Grilled Chicken Breasts with Pimiento Sauce 
Total time: 30 minutes
     Marinated, grilled chicken breasts with a drizzle of Pimiento Sauce..... Simple and delicious take on barbecue sauce. You can warm it slightly if you like.... I didn't.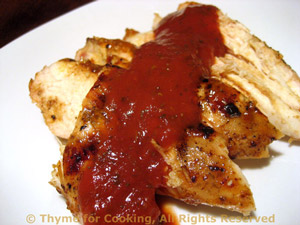 Ingredients:
2 chicken breasts, boneless, skinless
Marinade:
1 tsp Worcestershire sauce
2 tbs red wine vinegar
2 tbs ketchup
2 tbs olive oil
1/3 tsp garlic powder
1/2 tsp oregano

Pimiento Sauce -

leftover or

2oz (60gr) pimientos
3 tbs ketchup
1 tbs Balsamic vinegar
2 tsp Worcestershire sauce
Tabasco or hot pepper sauce  

optional
 Instructions:
Chicken:
In small bowl whisk together Worcestershire, vinegar, ketchup, oil, garlic and oregano for marinade. 
Put chicken breasts in glass baking dish and pour marinade over.  Let marinate for 15 - 20 minutes or up to 2 hours.
Cook on barbecue grill for 8 - 12 minutes a side or until done (test - take a peak).

OR

sauté in nonstick skillet for 8 - 10 minutes a side until nicely browned and done.

Pimiento Sauce:

 
If you need to make it: Put all ingredients for the sauce in a blender and purée.  Add Tabasco if you like it hot. 

To finish:

When chicken is done, remove and slice into 1/2" (1.25cm) slices. 
Arrange on small platter, drizzle with  Pimiento Sauce and serve.
Oriental Pasta Salad 
Total time: 2 minutes 

 Ingredients:
 Instructions:
remove from fridge and serve
Cooking schedule: 25 minutes
Assemble all food, utensils and serving dishes
Utensils: measuring cups, spoons, knives,
small bowl, dish to marinate, barbecue grill or skillet
Make marinade, pour over chicken
Light/turn on grill if using
Remove salad from fridge, stir
Remove Pimento Sauce from fridge, stir

     Pause while chicken marinates
Cook the chicken
     Pause while chicken cooks
Turn the chicken
      Pause while chicken cooks
Remove chicken
Slice chicken, drizzle with Pimento Sauce
Serve