Courgette (Zucchini) Soup
Grilled Scallops with Lemon Ginger Sauce
Basmati Rice with Lemon and Chives
Ginger Glazed Carrots
Cooking time:  35 minutes for menu          Cooking schedule: see below for instructions
       We use a bit of ginger all summer, so if you have to buy a larger piece for the scallops, don't worry; it'll keep for several weeks.  No scallops?  Substitute shrimp, cooked the same way. Serve the soup hot, room temp. or cold.
Zucchini (Courgette) Soup
Total time: 30 minutes
    This is a simple recipe, but delicious. You could chop some olives to sprinkle on top, snip fresh chives or even a dab of pesto on top of the yogurt! Don't peel the zucchini, it's healthier and gives the soup a nice color! 
 Ingredients:
2 cups chopped zucchini   

1 about 8" (20cm) long

1 medium onion
1 1/2 cups (12oz, 360ml) chicken stock
1 tbs butter
1 tsp fresh thyme
2 tbs (1oz, 30gr) Greek or plain yogurt for garnish
 Instructions:
Chop onion and zucchini. 
In medium saucepan sauté onion in butter until transparent. 
Add zucchini and just enough chicken stock to cover. 
Bring to a boil, reduce heat, cover and simmer for about 15 minutes. 
Purée solids, adding enough of the stock to get the consistency for the soup that you like - we like it thick. 
Snip thyme leaves and stir into soup. 
Serve, either hot or cold, with a dollop of yogurt in the center.
Grilled Scallops with Lemon Ginger Sauce
Total time: 15 minutes
    Scallops cook quickly on the barbecue.  You can use a grill pan or mat to cook them on, but, for easy handling, skewers work well, not through the 'center', but from side to side, so they lie flat. Be careful not to over cook the scallops or they can be tough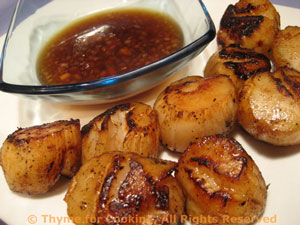 Ingredients:
 Instructions:
Note:  Could also be quickly sautéed in a nonstick skillet over medium high heat for about the same amount of time.
Basmati Rice with Lemon and Chives
Total time: 20 minutes 
   The lemon makes a very refreshing, light rice side dish. The fresh chives add just a hint of onion.
 Ingredients:
1/2 cup (3.3oz, 95gr) Basmati rice
1 tsp butter
1 cup (8oz, 240ml) chicken stock
2 tbs snipped fresh chives
juice from 1/2 lemon, about 2 tbs
1 tbs salad olive oil
 Instructions:
Melt butter in small saucepan over medium heat. 
Add rice, sauté, stirring, for 1 minute. 
Add stock, cover and cook until done, about 15 minutes.
Uncover rice and fluff with a fork 
Add chives, lemon juice and olive oil. 
Stir gently with a fork to combine. Serve.
Ginger Glazed Carrots
Total time: 20 minutes
    Ginger and sugar pair well with carrot's natural sweetness.... The ginger giving an extra kick to the butter and sugar glaze.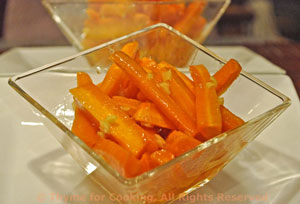 Ingredients:
 Instructions:
Cut carrots into sticks. (see techniques).
In a medium nonstick skillet melt the butter over medium heat. 
Add carrots, ginger, and sugar, (salt & pepper if using).  Stir fry for 2 minutes. 
Add just enough water to barely cover the carrots, turn the heat to medium-high, cover and bring to a boil. 
Remove cover and cook, stirring occasionally until water is gone, 6 - 8 minutes. 
Cook another minute or 2 after water evaporates to caramelize the sugar. 
Cooking Schedule: 35 minutes
Assemble all food, utensils and serving dishes
Utensils: measuring cups, spoons, knives,
scissors, medium bowl, 2 small saucepans, 1 lid,
medium saucepan with lid, medium skillet with lid,
blender, wooden skewers or grill pan/mat, BBQ
grill and tools or large skillet
Soak skewers if using
Chop onion, sauté
Chop zucchini
Add zucchini, stock to onion, cover, simmer
Snip all herbs
Mince all ginger, shallot
Saute ginger, shallot for sauce
Squeeze lemon, divide
Peel, cut carrots
Add stock, wine to ginger for sauce, reduce

Mix oil, soy, paprika; add scallops, stir to coat
Light/turn on barbecue grill if using
Thread scallops on skewers if using
Purée soup
Add thyme to soup, stir
Sauté rice
Add stock to rice, cover, simmer
Add lemon, soy sauce to dipping sauce
Serve soup, garnished with yogurt
Done?  Stir-fry carrots
Add water to carrots, cover, cook
Start to cook scallops
Put dipping sauce in nice bowls
Add lemon, chives, oil to rice, finish
Turn scallops
Uncover carrots, cook off
Remove scallops, Serve