Chicken Breast with Lemon and Honey
Grilled Potatoes, Peppers, and Onions
Southwestern Lentils,
leftover
Cooking time: 35 minutes for menu        Cooking schedule: see below for instructions
     Dinner from the barbecue grill - rounded out with some leftover Lentils!  
Chicken Breast with Lemon and Honey 
Total time: 30 minutes
    Chicken breasts are a favorite on the grill but be careful not to overcook or they tend to dry out.  We prefer to slice them thinly, at an angle, to serve, rather than leaving the breast whole, but that, of course is optional!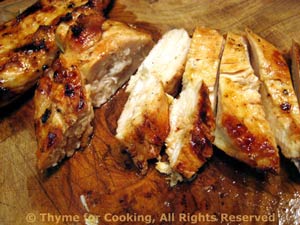 Ingredients:
2 chicken breasts, boneless, skinless
4 tbs lemon juice 
2 tbs honey
2 tbs olive oil
1 tbs soy sauce
1/2 tsp garlic powder
 Instructions:
In small bowl mix lemon juice, oil, honey, soy sauce and garlic powder.
  Place chicken breasts in a dish with sides and pour marinade over.  Let marinate 15 minutes or up to 4 hours in the refrigerator. 
Remove from marinade and cook on barbecue grill for 7 - 10 minutes per side, or until done,  basting with marinade until 5 minutes before removing (to make sure marinade is cooked). 
Could also be sautéed in a nonstick skillet for same amount of time. Serve.
Grilled Potatoes, Peppers, and Onions
Total time: 35 minutes 
   Another summer staple: grilled vegetables!  If you have a proper mesh grill pan, perfect.  If not use any old metal pan (cake pan, pie pan, foil pan, whatever) that is designated for permanent grill use  - the bottom will be blackened...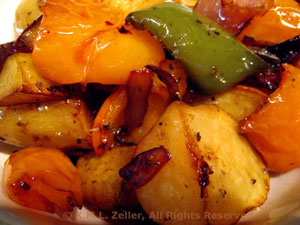 Ingredients:
 Instructions:
Slice peppers and onion (either vertically or horizontally - tastes the same) into thick slices.
Slice potatoes in half the long way, then in half again. Then slice in half or thirds the short way. 
Snip herbs. 
Put herbs, olive oil, lemon and soy sauce in a large bowl, add all vegetables and toss well to coat. 
Put into 'grill pan' (a metal or foil pan dedicated to use on the grill) or onto a mesh grill pan (the idea is not to have the stuff fall through the grate into the fire....) Cook over medium heat 20 - 30 minutes, until vegetables have a nice color and potatoes are done. 
Serve.
Southwestern Lentils
Total time: 5 minutes  

 Ingredients:
 Instructions:
Cooking schedule: 35 minutes
Assemble all food, utensils and serving dishes
Utensils: measuring cups, spoons, knives,
small bowl, dish for marinating, large bowl,
saucepan or dish for lentils, barbecue grill and grill
pans, tools or skillet and baking sheet
Turn on / light barbecue grill if using or oven
Make marinade, spoon over chicken
Mix oil, lemon, soy, herbs in bowl
Slice peppers, onion
Cut potatoes

Add vegetables to bowl, stir to coat
Put vegetables in grill pan, put on barbecue
   Pause while stuff cooks
Stir potatoes / peppers
Start to cook chicken
    Pause while stuff cooks
Turn chicken
Get lentils from fridge, reheat (or not)
Remove chicken, let rest
Remove potatoes / peppers
Slice chicken, Serve