Warm Pasta with Baked Goat Cheese
Fresh Fruit
Cooking time:  25 minutes for menu       Cooking schedule: see below for instructions
          This is a variation on the classic, French bistro salad with rounds of warm goat cheese.  The breading helps keep it together, but only helps, so you do have to watch it carefully.  I used dried, basil-flavored spaghetti but any spaghetti or pasta will work.
Warm Pasta with Baked Chevre (Goat Cheese)
Total time: 25 minutes  
   This is a cross between a hot, winter pasta dish and a cool, summer salad.  The goat cheese normally comes log-shaped (long, round), and wrapped in paper.  It will have a thin rind that is an edible part of the cheese.  You could substitute another, semi-soft cheese such as Brie or Camembert.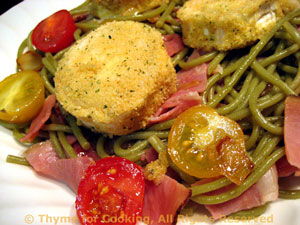 Ingredients:
 Instructions:
Cook pasta according to package directions. 
Drain and toss with 1 tbs olive oil. 
Peel and roughly chop shallot.
Cut Prosciutto into bite-size pieces. 
Cut tomatoes in half. 
Heat 2 tbs olive oil in medium nonstick skillet. 
Add shallots and sauté until starting to brown, about 15 minutes. 
Add Prosciutto, and sauté 2 - 3 minutes longer. 
Add cherry tomatoes and heat through. 
Add vinegar and pasta, and stir/toss to combine. 
Remove from heat.  
Slice cheese into 4 to 6 rounds. Each round should be between 1/3 and 1/2 inch thick (about 1cm).
Put bread crumbs on one plate and 1 tbs olive oil on another plate.
Roll the edges of the cheese in the oil, then dip both sides, so it's completely coated.
Repeat procedure in the crumbs - so each slice is coated. 
Place on a baking sheet. Bake, 400F (200C) for 3 - 4 minutes, just until you see the tops sink slightly or cheese ooze slightly.  If it hasn't happened after 4 minutes, take them out anyway - they're ready.

To serv

e:  Divide pasta between 2 plates. 
Top with rounds of cheese and serve immediately.
Fresh Fruit
Whatever looks good for the season.
Cooking Schedule: 25 minutes for menu
Assemble all ingredients and utensils
Utensils: measuring cups, spoons, knives,
medium skillet, large pot for pasta, colander, baking
sheet, medium bowl, 2 small plates
Turn oven on, 400F (200C)
Put water on high heat for pasta
Roughly chop shallots, sauté
Cut Prosciutto
Slice tomatoes
Cook pasta
     Wait for everything to cook

Mind the shallots
    Pasta close?
Roll cheese in oil, crumbs, put on baking sheet
Add Prosciutto to shallots, sauté
Drain pasta, toss with oil
Bake cheese
Add tomatoes to skillet
Add vinegar to skillet, stir, then add pasta
Divide pasta, arrange on two plates
Carefully watch the cheese
When ready, remove, add to pasta, serve
Don't forget the fruit for dessert!