Inside-Out Burgers
Warm Green Bean and Brown Rice Salad
Cooking time:  25 minutes for menu           Cooking schedule: see below for instructions
          We normally don't eat buns with our burgers - mainly because it's too much food and We'd rather have more burger.  But I like tomato and cheese on it..... Or in it. These work best with a basket as they don't stay together well.  Or a grill pan....
Inside-Out Burgers
Total time: 20 minutes
    The cheese and tomato are on the inside.  The cheese melts (barely) but the tomato stays firm.  Serve with or without buns.
 Ingredients:
12oz (360gr) ground beef (mince)
1 medium - large tomato
4 slices fresh mozzarella, or other soft cheese
4 large or 8 smaller basil leaves
 Instructions:
Cut 4 slices of tomato. 
Divide meat into 8 portions. 
Shape 4 thin patties about the size of the tomato slices.
 Place 1 tomato slice, 1 slice of mozzarella and 1 or 2 basil leaves on each patty. 
Shape 4 more thin patties and place on top. 
Oil hinged basket.  Place patties in basket and secure. 
Cook on barbecue grill over direct heat for 3 - 4 minutes per side. 
Warm Green Bean and Brown Rice Salad 
Total time: 30 minutes
     I use 'Uncle Ben's' which is all I can get and it's quick cooking.  It looks like brown Basmati and cooks in 15 minutes.  You can use regular Basmati if you prefer.  This salad is good warm or cold, so timing is not an issue.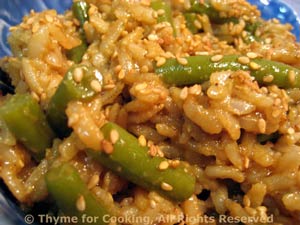 Ingredients:
 Instructions:
Note: Toast sesame seeds in a dry, nonstick skillet, over medium-high heat, 3 - 6 minutes. Start flipping them or shaking the skillet after 1 - 2 minutes and remove as soon as light brown.
Cooking schedule: 25 minutes
Assemble all food, utensils and serving dishes
Utensils: measuring cups, spoons, knives,
small bowl, whisk, small saucepan with lid, small
skillet with lid, medium bowl, barbecue grill and
grill basket
Light/turn on barbecue grill
Cook rice
Oil basket
Divide beef into 8 portions
Make 4 thin patties
Slice tomato, put slices on patties
Slice mozzarella, put slices on tomato

Put basil on mozzarella
Top with 4 thin beef patties
Secure in basket, set aside
Toast sesame seeds
Top, tail beans, cut, cook
Cook burgers
Make vinaigrette
Fluff rice, spoon into bowl
Turn burgers
Drain beans, add to rice
Add vinaigrette to rice, beans, stir.
Remove burgers
Serve