Grilled Chicken Breasts with Mustard Sauce
Roasted Carrots, Onions and Potatoes
Cooking time: 35 minutes for menu      Cooking schedule: see below for instructions
     Tired of the tomato-based barbecue sauces?  How about something with a mustard sauce?
Grilled Chicken Breasts with Mustard Sauce 
Total time: 35 minutes
   Grilled chicken breasts finished with a warm mustard sauce; a little bit of heat for summer cooking.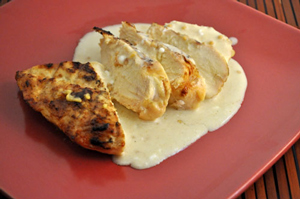 Ingredients:
 Instructions:
Combine stock, sherry in a small saucepan and bring to a boil over medium-high heat. 
Continue to boil until reduced to about 1/3 cup. 
Whisk in mustards, reduce heat and simmer 2 minutes. 
Remove from heat and allow to cool slightly. 
Stir in Greek yogurt.  
Mix 1 tbs Dijon mustard with 1 tbs olive oil and spread on chicken breasts. 
Cook on barbecue grill for 10 - 15 minutes or until done.  Remove from heat, slice and serve with sauce. 

Or

can be baked for 20 - 25 minutes 400F or sauté  for 15 - 20 minutes  - in all cases until done.
Roasted Carrots, Onions and Potatoes   
Total time: 35 minutes 
      In the winter I do these in the oven; in summer on the grill. Either way, roasted/grilled vegetables are delicious, and, cooked with a minimum of fat, very healthy.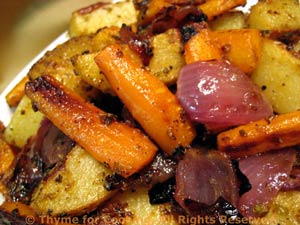 Ingredients:
2 - 3 medium carrots
1 red onion  
2 medium potatoes  

about 12oz (360gr) total   

2 tbs olive oil
1 tbs balsamic vinegar
1/2 tsp oregano
1/4 tsp sea salt or regular salt
 Instructions: 
Peel carrots and onion. 
Slice the carrots in half lengthwise and then in half or thirds the short way. 
Slice onion in half, then each half in thirds. 
Slice potatoes in half the long way, then in half again.  Then slice in half or thirds the short way. 
In a medium bowl mix oil and vinegar. 
Add vegetables and toss well to coat.

To Grill on barbecue:

Put into 'grill pan' (a metal or foil pan dedicated to use on the grill) or onto a mesh grill pan (the idea is not to have the stuff fall through the grate into the fire....) Cook over medium heat 20 - 30 minutes, until vegetables have a nice color and potatoes are done.  Serve.

To Roast in oven: 

Put vegetables on a baking sheet with a lip or in a shallow roasting pan.  Bake in 420F (215C) oven for 30 minutes or until done, stirring occasionally.  Vegetables should be lightly browned and tender.  Remove, sprinkle with sea salt and serve.
Cooking schedule: 35 minutes
Assemble all food, utensils and serving dishes
Utensils: measuring cups, spoons, knives,
small saucepan, whisk, small bowl, large bowl,
barbecue grill and grill pan, plate for chicken
Light/turn on barbecue grill
Cut potatoes, carrots, onion
Mix oil, vinegar, add vegetables, stir well
Put vegetables in grill pan, cook
Combine stock, sherry, reduce

Combine mustard, oil, brush on chicken
Cook chicken
Add mustards to sherry / stock, simmer
    Pause while it all cooks
Mind the vegetables
Turn the chicken
Add yogurt to mustard sauce
Remove chicken, vegetables
Slice chicken
Serve with sauce