Sweet and Sour Chicken Salad
Fresh Peach and Berry Salad
Cooking time: 25 minutes for menu      Cooking schedule: see below for instructions
     We still have lots of lettuce in the garden - so more salads.  If you have chicken/hen left from Saturday, you can use it here.
Sweet and Sour Chicken Salad 
Total time: 25 minutes
    You can use bottled Sweet and Sour Sauce or my recipe - which makes just the right amount.  I usually use mushrooms raw in salads, but sometimes, as here, they are sautéed to absorb and blend the flavors.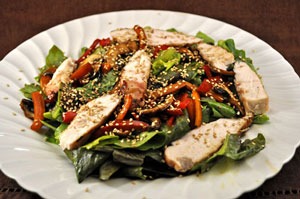 Ingredients:
2 chicken breasts, boneless, skinless
1 small red pepper
4oz (120gr) mushrooms
1 tbs fresh snipped chives   

substitute 1 tsp dried

1 tbs toasted sesame seeds
3 tbs Teriyaki sauce
2 tsp walnut or sesame oil
1/4 cup sweet and sour sauce
Lettuce, enough for 2 main course salads
Sweet and Sour Sauce: 
1 tbs sugar
1 tbs cider vinegar
2 tbs soy sauce
1 tsp cornstarch (maizena)
Vinaigrette:
1/4 cup sweet and sour sauce

1/2 tsp dry mustard

1/2 tsp garlic powder
1 tbs cider vinegar
3 tbs salad olive oil
 Instructions:
Pour 2 tbs Teriyaki sauce over chicken and allow to marinated a few minutes.
Clean and thickly slice mushrooms. 
Clean and slice pepper into strips
In nonstick skillet heat oil and 1 tbs Teriyaki sauce. 
When hot add mushrooms, pepper and sauté briefly, about 4 minutes.  Remove and set aside.
Cook chicken on barbecue grill over direct heat for 8 - 10 minutes per side.  When done remove and slice.  

Or: 

cut into strips before marinating, toss with Teriyaki sauce and stir-fry in nonstick skillet in 1 tbs oil for 4 - 5 minutes.
Sweet and Sour Sauce:
In a small saucepan, heat sugar, vinegar, soy sauce and cornstarch to boiling, stirring with a whisk. 
Cook until thick and clear, about 1 minute.  Allow to cool  
Vinaigrette:
Put all ingredients in a small bowl and whisk well to combine.
To finish:
Snip chives. 
Prepare lettuce and put into a large salad bowl along with chives. 
Toss with about half of the vinaigrette - it's quite thick so it takes a bit of tossing to distribute it well - be careful not to use too much to start. 
When it is to your liking, add mushrooms, peppers and toss gently.  Arrange chicken on top.  Drizzle with a bit of vinaigrette, sprinkle with sesame seeds, and serve with remaining vinaigrette on the side. 
Note: Toast sesame seeds in a dry, nonstick skillet, over medium-high heat, 3 - 6 minutes. Start flipping them or shaking the skillet after 1 - 2 minutes and remove as soon as light brown.
Fresh Peach and Berry Salad
Total time: 10 minutes
   Summer fruits are at their peak.  I used white peaches and fresh strawberries. ( My strawberries are the ever-bearing variety.)  Use whatever peaches and/or nectarines and berries are in season.  A bit of sugar, vanilla and Greek Yogurt finishes off this salad.  You could also add a bit of fresh mint or a tot of rum.....
 Ingredients:
 Instructions:
Rinse peaches and berries. 
Stem and cut berries if needed. 
Cut peaches in half around pit and twist, gently.  If the peaches are 'freestone' the halves will come apart easily.  Slice.  If they are 'clingstone' the halves will not budge and you'll have to cut the peach off the stone in chunks. 
Put fruit into a medium bowl and sprinkle with sugar.  Stir gently. 
Mix yogurt and vanilla. 
Add to fruit and stir gently.  Serve.
Cooking schedule: 25 minutes
Assemble all food, utensils and serving dishes
Utensils: measuring cups, spoons, knives,
whisk, small bowl, dish to marinate, small saucepan,
skillet, barbecue grill and tools, salad spinner, large
salad bowl, medium bowl
Pour Teriyaki sauce over chicken, allow to marinate
Turn on/light barbecue grill
Toast sesame seeds
Slice mushrooms, peppers
Sauté mushrooms, peppers in oil & Teriyaki
Make sweet and sour sauce, allow to cool
Remove mushrooms, peppers, set aside
Prepare lettuce: wash, spin dry
Cook chicken

Make vinaigrette
Toast sesame seeds if needed
Turn chicken
Stem cut berries if needed
Slice peaches
Sprinkle fruit with sugar, stir
Add yogurt, vanilla, chill
Remove chicken, let rest
Toss lettuce, herbs, with half the vinaigrette
Add mushrooms, peppers, toss
Slice chicken, arrange on top
Sprinkle with sesame seeds
Drizzle with a bit more vinaigrette
Serve, remaining vinaigrette on the side
Don't forget the fruit salad