Pork with Peas and Pasta
Cooking time:  25 minutes for menu      Cooking schedule: see below for instructions
        As usual, a simple, one-dish dinner to end the week.
Pasta with Pork, Peas and Peppers
Total time: 25 minutes
    Pork tenderloin can be cooked quickly while remaining tender. With frozen peas, this dish goes together quickly.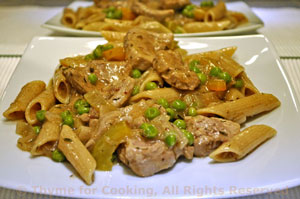 Ingredients:
1 pork tenderloin, 12oz (360gr)
1/2 green pepper
3 shallots
1 cup (6oz, 180gr) peas, frozen, no sauce
1 tsp dried thyme
1/2 tsp cumin
1/2 tsp paprika
1 tbs Dijon-style mustard
3/4 cup (6oz, 180gr) beef stock
2 tsp olive oil
2 tsp cornstarch dissolved in 1 tbs water
1 1/4 cup (4.1oz, 120gr) pasta, bite-size, penne, fusilli
 Instructions:
Cook pasta according to package directions.  Drain.
Slice pork into rounds about 1/2" (1cm) thick. 
Roughly chop shallots and pepper.
Heat oil in large nonstick skillet.  Add cumin, paprika, shallots, pepper, and sauté until tender, about 5 minutes.
Move vegetables to the side, add pork slices and sauté 3 - 4 minutes per side.
Add peas (no need to thaw first) thyme, mustard, beef stock, cover, reduce heat to low and simmer 10 minutes.
Dissolve cornstarch in water, add to skillet and stir until thickened.
Add pasta to skillet, stir well to combine and serve.
Cooking schedule: 25 minutes
Assemble all food, utensils and serving dishes
Utensils: measuring cups, spoons, knives,
large skillet with lid, pot and colander for pasta
Put water on high heat for pasta
Chop shallots, pepper
Slice pork
Sauté spices, pepper, shallots

Add pork, sauté
Turn pork
Cook pasta
Add peas, thyme, mustard, stock, cover, simmer
    Pause while it all cooks
Dissolve cornstarch in water, stir in to thicken
Drain pasta
Add pasta to skillet, combine, Serve