Lemon and Soy Glazed Turkey Cutlets
Winter Rice Pilaf
Broccoli with Bacon and Mustard
Cooking time:  30 minutes for menu           Cooking schedule: see below for instructions
     If you can't find turkey cutlets, substitute thinly sliced turkey tenderloin, pork cutlets or chicken breasts. The Pilaf should finish the mushrooms.
Lemon and Soy Glazed Turkey Cutlets
Total time: 20 minutes 
    Turkey cutlets, are thin slices of turkey breast meat.  They cook quickly and are particularly well suited to savory marinades and sauces.  If you can't find them, substitute thinly sliced turkey tenderloin or chicken breasts. This is an intensely flavored, savory dish.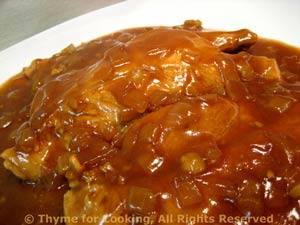 Ingredients:
 Instructions:
Combine soy sauce, lemon juice, brown sugar and stock in a dish.
Add turkey cutlets, turning to coat and allow to marinate for a bit.
Thinly slice onion.
Mince garlic.
Mince ginger if using fresh.
Sauté onion, garlic and ginger in oil in large nonstick skillet over medium heat for 5 minutes.
Add turkey (reserving marinade) and sauté until golden, turning once - pushing onion mixture to sides of pan to prevent burning.
Add reserved marinade, reduce heat and cook, covered 4 - 6 minutes longer or until done.
Remove turkey from pan.
Thicken pan juices by adding cornstarch mixture and stirring well.
Spoon over turkey and serve.
Winter Rice Pilaf
Total time: 30 minutes
      I often make Rice Pilaf in summer with fresh tomatoes and herbs.  This is a winter version.  Use quick-cooking brown rice or substitute Basmati.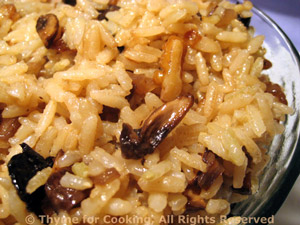 Ingredients:
1/2 cup (3.3oz, 95gr) quick-cooking brown rice
1 cup (8oz, 240ml) chicken stock
2oz (60gr) mushrooms
2 shallots
1/4 cup (1oz, 30gr) walnuts
1/4 cup Greek olives, about 10
2 tsp olive oil
 Instructions:
Broccoli with Bacon and Mustard
Total time: 25 minutes
    This could be called 'German-Style' with the hot mustard, bacon and vinegar... We just called it delicious!
 Ingredients:
2 slices bacon,  1oz (30gr)
1/2 medium head broccoli
1 tbs whole grain mustard
3 tbs red wine vinegar
2 tbs water
 Instructions:
Cut broccoli into bite size florets and stems.
Put into a medium skillet with 1/2" (1.5cm) water on the bottom.  Cover and simmer on medium heat for 8 -10 minutes or just until done, careful not to overcook.
Remove from pan and set aside, discarding water.  Cover to keep warm. 
Cut bacon into sticks.  In the same pan sauté bacon until crisp.
Add water, vinegar, mustard and stir well, reducing slightly.
Add broccoli, stir well to coat.  Heat through and serve.
Cooking schedule: 30 minutes
Assemble all food, utensils and serving dishes
Utensils: measuring cups, spoons, knives,
large skillet with lid, dish for marinating, medium
saucepan with steamer basket, lid, small saucepan
with lid, medium skillet
Make marinade for turkey, spoon over
Slice onion
Mince garlic, ginger
Clean, cut broccoli
Chop shallots
Trim, chop mushrooms
Pit chop olives
Start to cook rice
Sauté onion, garlic, ginger for turkey

Start to steam broccoli
Sauté turkey
Cut bacon
Turn turkey
Sauté shallots, mushrooms, walnuts for rice
Dissolve cornstarch in water
Add reserved marinade to turkey, cover, simmer
Remove broccoli
Drain pan, sauté bacon for broccoli
Add olives to shallot / mushroom
Add water, vinegar, mustard to bacon
Remove turkey, thicken sauce, spoon over turkey
Add rice to shallot / mushroom skillet, stir well
Add broccoli to bacon / vinegar, stir to coat
Serve all