Grilled Ham with Red Eye Glaze
Pasta with Red Bean and Herbs
Cooking time: 25 minutes for menu      Cooking schedule: see below for instructions
     When I lived in the U.S. I loved smoked pork chops - so substitute those if you like. With it, a simple pasta dish, with some beans and whatever herbs are in the garden or fridge.
Grilled Ham with Red Eye Glaze
Total time: 15 minutes
    A Southern Classic, moved to the barbecue grill.  The glazed is boiled to reduce it a bit, then used both to baste the ham and as a finishing sauce.  As the ham is already fully cooked, this is a very quick dish.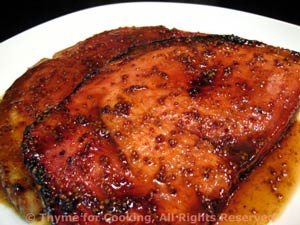 Ingredients:
 Instructions:
Mix sugar, coffee, mustard and vinegar in a small saucepan. 
Boil for 5 minutes, reducing by half. 
Cook ham on the barbecue grill, 5  - 7 minutes per side, basting with the Redeye Glaze until ham is a lovely mahogany color. 

Or

sauté in olive oil in nonstick skillet for same amount of time - until it starts to brown. Pour any remaining glaze over the ham and serve. .

 

As ham is cooked there is no problem using basting sauce to finish

.
Pasta with Red Bean and Herbs
Total time: 25 minutes
     Pasta, with red beans and fresh herbs, lightly dressed with a simple vinaigrette makes a perfect accompaniment to grilled meats.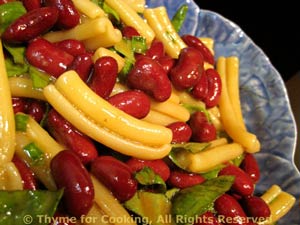 Ingredients:
1 cup (3.3oz, 95gr) dried pasta -

fusilli, penne

1 3/4 cup (15oz, 450gr) red beans
2 tbs snipped fresh herbs  

oregano, basil, chives, parsley

Vinaigrette:
1 tbs soy sauce
3 tbs tarragon white wine vinegar
2 tbs salad olive oil
1 tbs walnut or sesame oil
 Instructions:
Cook pasta according to package instructions.  Drain. 
Drain and rinse beans.
Snip herbs.
Make vinaigrette:
Mix soy sauce and vinegar in a small bowl.
Add oils and whisk - mixture will not emulsify (thicken) but should be well blended.
To finish:
Put beans, herbs and vinaigrette into a large bowl. 
When pasta is done, drain and add.
 Stir well to mix and serve.
Cooking schedule: 25 minutes
Assemble all food, utensils and serving dishes
Utensils: measuring cups, spoons, knives,
whisk, small bowl, pot for pasta, colander, small
saucepan, barbecue grill or large skillet
Put pasta water on high heat
Make red-eye glaze, reduce
    Wait for water to boil
Turn on/light barbecue grill

Cook pasta
Open beans, drain
Snip herbs
Start to cook ham, baste
Make vinaigrette
Turn ham, baste
Put beans, herbs, vinaigrette in bowl, stir
Drain pasta, add to bowl, stir to mix
Baste, remove ham, pour rest of sauce  over, Serve