Fresh Tomato and Garlic Soup
Teriyaki Turkey Kebabs with Sesame Couscous
Cooking time:  45 minutes for menu          Cooking schedule: see below for instructions
       More kebabs before the end of the season: a variation on the traditional with an Asian twist.
Fresh Tomato and Garlic Soup
Total time: 35 minutes
    Hot soup, perfect for cooler fall evenings but, with garden fresh tomatoes, still has the flavors of summer.  I used vermicelli, but any small pasta would work.  Or you could use spaghetti, breaking it into 1" (2.5cm) lengths.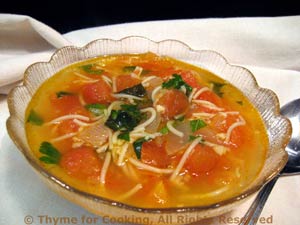 Ingredients:
 Instructions:
Finely chop onion and garlic.
Sauté in medium saucepan in olive oil over medium heat until soft and transparent, 7 - 10 minutes. 
Peel tomatoes and chop roughly. 
Add tomatoes to onion and garlic and sauté for 5 minutes. 
Add chicken stock and pasta, cover and simmer over low heat for about 15  - 20 minutes, depending on pasta, stirring every few of minutes so pasta doesn't stick. 
Remove from heat, add herbs, vinegar and serve.
Note: To peel tomatoes blanch in boiling water for 30 seconds, then plunge into cold water.  Peels should slip off easily.
Teriyaki Turkey Kebabs
Total time: 45 minutes
    Do the longer-cooking vegetables on separate skewers so everything is done at the same time.  These kebabs have an oriental flavor and are served with Warm Peanut Sauce rather than Yogurt Sauce.
 Ingredients:
10oz (300gr) turkey tenderloin
8 large cherry tomatoes
8 large button or cremini mushrooms
1 medium zucchini (courgette), about 8" (20cm)
1 large red onion
1 orange or red bell pepper
3 - 4 tbs Teriyaki sauce/marinade
8 skewers, if wooden soak in water
Warm Peanut Sauce:
1/3 cup peanut butter
2 tbs snipped fresh chives
1 tbs snipped fresh parsley
1 tsp chili powder
1 tsp sesame oil
1 tbs olive oil
2 tsp soy sauce
2 tsp lemon juice
1 tsp brown sugar 
1/3 cup chicken stock
 Instructions:
Cut turkey into chunks, put into a bowl with the Teriyaki sauce. Stir to coat. 
Cut pepper in half, then each half into 4 squares.
Cut onion into 6 or 8 wedges.
Clean mushrooms.
Slice zucchini into 1/2" (1.25cm) slices.
Add pepper, mushrooms, onions and zucchini to bowl with turkey and stir gently. 
Let marinate 15 - 60 minutes.
When ready to cook:
Put turkey, mushrooms and tomatoes onto 4 skewers, alternating.
Put peppers, onions and zucchini on the other 4 skewers, alternating.
Start to cook the vegetable-only skewers first, over indirect heat with the cover closed. 
After about 7 minutes, lift cover and turn vegetables, moving over direct heat.
 Add turkey skewers over direct heat.
 Cook for 6 - 10 minutes, or until turkey is done. 
Warm Peanut Sauce:
Heat oils in small saucepan.
Add chives and chili powder and sauté briefly.
Add remaining ingredients and bring to a boil, stirring well to combine.
Remove from heat and cover to keep warm.
Sesame Couscous
Total time:

15 minutes
Sesame seeds and oil put a different twist on the standard couscous. Show with Turkey Kebabs.
 Ingredients:
1/2 cup (3oz, 90gr) couscous
3/4 cup (6oz, 180ml) chicken broth
2 tsp peanut butter
2 tsp toasted sesame seeds
2 tsp sesame or walnut oil
 Instructions:
Heat chicken broth and peanut butter to boiling, stirring to combine.
Put couscous in a bowl. 
When broth is boiling pour over couscous, cover and let stand for 10 minutes... Do

not

stir it.
Uncover, add sesame seeds, sesame oil, fluff gently with a fork to combine and serve. 
To toast sesame seeds:  Put them into a dry, nonstick skillet over medium heat.  Toss or stir them about in the pan until lightly golden, about 5 minutes.
Cooking Schedule: 45 minutes
Assemble all food, utensils and serving dishes
Utensils: measuring cups, spoons, knives,
scissors, medium bowl, large bowl, 2 small
saucepans, lid, skewers, barbecue  grill and tools,
medium skillet if toasting sesame seeds, foil or
plate to cover couscous
Soak skewers if wood
Put Teriyaki sauce in large bowl
Cut turkey, add to bowl
Trim mushrooms, add to bowl
Cut zucchini, add to bowl
Cut pepper, add to bowl
Cut onion, add to bowl, set all aside to marinate
Put water on high heat for tomatoes
Peel garlic
Chop onion
Sauté onion, garlic for soup
Snip all herbs

Blanch tomatoes, 30 seconds
Peel, chop tomatoes, add to onions
Toast sesame seeds if needed
Add stock, pasta to tomatoes, cover, simmer
Heat stock, peanut butter for couscous  
Make peanut sauce, keep warm
Light/turn on barbecue grill
Stir soup
Assemble skewers
Put couscous in bowl, add stock, cover
Finish soup
Start to cook vegetable skewers
Ladle soup into bowls, garnish, serve
    Don't forget to check vegetable skewers
Done?  Move vegetables off direct heat
Start to cook turkey skewers
Finish couscous, arrange on platter
Remove skewers, arrange on couscous
Serve, Warm Peanut Sauce on side