Menu Plan for the week of June 21, 2013: Friday's Recipes
Tomato, Caper and Herb Salad
Grilled Trout, Stuffed with Lemon and Thyme
Barley with Chives
Sautéed Chard with Feta and Olives
Cooking time:  35 minutes for menu          Cooking schedule: see below for instructions
   We're celebrating herbs with this dinner.... And summer. You can use any whole fish in place of the trout.
Tomato, Caper and Herb Salad
Total time: 10 minutes 
    Salad at its simplest: a few fresh ingredients tossed with vinegar and oil and served on fresh lettuce leaves.
 Ingredients:
12 cherry tomatoes
12 Greek or other olives
1 tbs capers
2 tbs fresh basil leaves
1 tbs fresh thyme
2 tbs fresh chives
1 tbs white Balsamic vinegar
1 tbs good olive oil
2 tbs shredded Parmesan
10 - 12 nice lettuce leaves
 Instructions:
Cut cherry tomatoes in half.
Pit olives, if needed, and cut in half. 
Snip herbs. 
Put tomatoes, herbs, olives and capers in a bowl. 
Add vinegar, oil and stir well to mix.
Shred or shave Parmesan
Arrange lettuce leaves on 2 plates.
Spoon salad into the center.
Top with Parmesan and serve.
Grilled Trout with Lemon Thyme and Lemon
Total time: 25 minutes  
    If you have a basket for the fish it will hold them together nicely.  If not, tie them with kitchen string.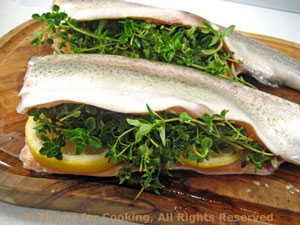 Ingredients:
 Instructions:
Slice lemon. 
Put lemon slices and thyme inside the fish - as much as you can stuff in. 
Either put fish in grill basket or tie securely and use a grill mat.
Cook on barbecue grill over medium heat about 7 minutes per side or until done, turning once.  Can also be baked or cooked under the broiler. Times will vary according to the size and thickness of the fish.  When done the flesh should be opaque. 
Note: I skinned each fish and took out the back bone, lemons and thyme before serving but it also makes a nice presentation served whole.
Barley with Chives
Total time: 20 minutes 
   Barley is not just for soup!  It's a hearty, nutritious grain; easy to cook and flavorful.  I get the quick-cooking barley which takes about 15 minutes.  Cooked in chicken stock and finished with a bit of oil and fresh herbs, it's chewy texture is a fun change from rice or pasta.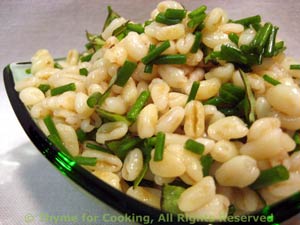 Ingredients:
1/2 cup (2.8oz, 80gr) quick-cooking barley
1 cup (8oz, 240ml) chicken stock (or more, depending on type of barley)
3 tbs fresh, snipped chives
1 tbs fresh, snipped basil
1 tbs good olive oil
 Instructions:
Cook barley in stock until done, stirring occasionally. If all stock is not absorbed, drain. 
Stir in olive oil, herbs and serve.
Sautéed Chard with Feta and Olives
Total time: 20 minutes
   Chard, or Swiss Chard, is a slightly bitter green, reminiscent of spinach.  Mine is 'Rainbow Chard', thus all the colors.  We added feta and Greek olives for a Mediterranean flavor.
 Ingredients:
7oz (210gr) chard or Swiss chard
1/2 large onion
1.5oz (45gr) feta cheese
1/4 cup Greek olives  

about 10 olives

1 tbs ketchup
1 tbs Balsamic vinegar
1 tbs fresh oregano
2 tsp olive oil
 Instructions:
Wash the chard and trim any bad bits. 
Stack the leaves together and fold over, the long way.  Slice into thin strips, about 1/2" (1cm) using both leaves and stems.
 Roughly chop onion.
Snip oregano leaves.
Heat oil in a large skillet.  Add onion and sauté until tender, about 5 minutes. 
Add the chard stems and stir-fry over medium heat 3 minutes, then add the leaves.   Stir and turn until the leaves wilt and it all fits into the skillet. 
Add the ketchup, vinegar and stir well to combine. 
Reduce heat to low and cook until chard is tender, another 4 - 5 minutes, stirring frequently.
To finish: 
Crumble feta or cut into small cubes. 
Slice olives. 
Remove chard from heat, stir in feta, oregano and olives. Serve.
Cooking Schedule: 35 minutes for menu
Assemble all ingredients and utensils
Utensils: measuring cups, spoons, knives,
scissors, small bowl, grater, small saucepan, lid,
large skillet, lid, barbecue grill, baskets and/or mat
Snip all herbs - not thyme for fish
Cut tomatoes
Pit, cut olives
Mix tomatoes, capers, olives, herbs, oil, vinegar
Shred Parmesan
Light/turn on barbecue grill
Slice lemon
Prepare fish, stuff with lemon, thyme
Put fish in basket or tie securely
Prepare chard: clean, trim, roll, slice
Crumble feta
Chop onion

Sauté onion
Start to cook barley
Prepare lettuce leaves
Arrange lettuce on plates, spoon salad in center
Add chard stems to onion, sauté
Sprinkle Parmesan on salad
Add chard leaves to skillet, stir until they fit
Add ketchup, vinegar, oregano, stir
Cover skillet, remove from heat
Start to cook fish
Serve salad
   Interrupt salad to turn fish, check barley
Done?   Check chard, put back on heat if needed
Remove fish
Finish barley
Finish chard
Serve