Menu Plan for the week of August 2, 2013:  Tuesday's Recipes
Turkey Piccata
Basmati Rice with Garlic and Lemon
Three Bean Salad
Cooking time:  25 minutes for menu      Cooking schedule: see below for instructions
      Leftover Three Bean Salad rounds-out this easy dinner
Grilled Turkey Cutlets Piccata   
Total time: 30 minutes
    Turkey cutlets cook quickly, and work very well with marinades.  If you can't get them get a turkey tenderloin and either slice it into thin cutlets yourself or ask your butcher. You could also use boneless, skinless chicken breasts.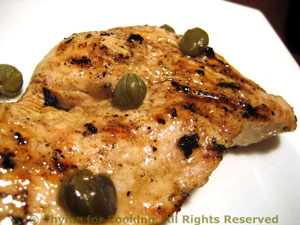 Ingredients:
2 - 4 turkey cutlets, depending on size,  12oz total weight  (360gr)
2 tbs capers (with liquid)
2 tbs lemon juice
2 tbs olive oil
 Instructions:
Put capers, lemon juice and oil in small bowl and whisk to combine - mixture will get very thick.
Put turkey in a shallow dish, spoon marinade over and let marinate for 15 minutes. 
Remove from marinade and cook on barbecue grill for 3 - 4 minutes per side depending on thickness - or until done.

Or

can be sautéed in nonstick skillet over medium heat for the same time - or until done. 
Remove from heat and serve, with a few more capers sprinkled on... 
Lemon Garlic Basmati Rice
Total time: 20 minutes 
     A bit of garlic, lemon and thyme adds a subtle hint of flavor to the Basmati that works perfectly with grilled or braised meats....  Especially those with a hint of lemon...
 Ingredients:
1/2 cup (3.3oz, 95gr) Basmati rice
1 clove garlic
2 tsp butter
1 cup (8oz, 240ml) chicken stock
1 tsp dried thyme
1 tbs lemon juice
 Instructions:
Mince garlic.
Melt butter in a small saucepan over medium heat.
Add garlic and sauté briefly, 1 - 2 minutes.
Add rice and sauté, stirring for 2 - 3 minutes.
Add stock, thyme and lemon juice.  Cover and cook for length of time on package.
When done fluff with a fork and serve. 
Three Bean Salad
 Ingredients:
 Instructions:
Remove from fridge and serve
Cooking schedule: 25 minutes
Assemble all food, utensils and serving dishes
Utensils: measuring cups, spoons, knives,
scissors, small bowl, whisk, dish for marinating, small
saucepan with lid, barbecue grill
Make marinade, spoon over turkey, set aside
Mince garlic
Sauté garlic
Add rice, sauté

Add stock, thyme, lemon, cover, simmer
Turn on / light barbecue grill
Get salad from fridge, stir
    Pause while rice cooks
Cook turkey
    Pause
Turn turkey
Fluff rice
Remove turkey and serve