Menu Plan for the week of August 2, 2013:  Sunday's Recipes
Grilled Chicken Thighs
Pesto Potato Salad
Three Bean Salad
Cooking time:  40 minutes for menu      Cooking schedule: see below for instructions
      The Three Bean Salad will be for 2 meals. The pesto is from Friday or use commercial.
Grilled Chicken Thighs
Total time: 40 minutes 
   We marinated the thighs while the grill heated, then made a basting sauce with the marinade.  Leave the skin on for cooking, remove or not before eating.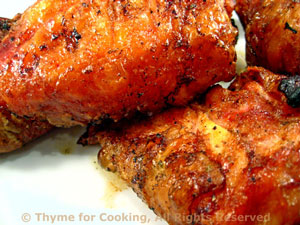 Ingredients:
4 chicken thighs
Marinade:
2 tbs lime or lemon juice  

fresh if you have it

1 tbs white Balsamic vinegar
2 tbs olive oil
1/2 tsp garlic powder
1/4 tsp ground ginger
Basting Sauce:
reserved marinade
2 tbs ketchup
2 tsp soy sauce
1/2 tsp cumin
1/2 tsp paprika
 Instructions:
Chicken Thighs:
Mix all ingredients for marinade, spoon over thighs and let marinate for 10 - 15 minutes.
When ready to cook, remove thighs and reserve marinade.
Cook thighs on barbecue grill for 25 minutes, turning once or twice. 
Basting Sauce:
Heat reserved marinade in a small saucepan.
Add ketchup, soy sauce, cumin, paprika and bring to a boil. 
Reduce heat and simmer 5 minutes.
Start basting the thighs after 10 minutes and baste 2 - 3 times. 
They'll be done when they are nicely browned and the juices run clear when pierced with a knife.
Pesto Potato Salad
Total time: 25 minutes  
   Pesto is not just for pasta!  A spoonful in this or that adds a depth of summery basil flavor.  Or use a lot, for this creamy potato salad.  As usual, we try to keep the calories and fat down by using yogurt rather than mayonnaise.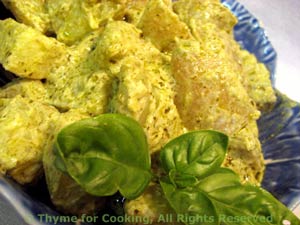 Ingredients:
2 medium potatoes, about 12oz (360gr)
1/4 cup (2oz, 60gr) pesto
1/4 cup (2oz, 60gr) Greek or plain yogurt
 Instructions:
Slice potatoes for salad.
Cook in boiling, salted water, partially covered, until done, 10 - 12 minutes. 
When done, drain and put into serving dish.
Mix pesto and yogurt.  Add to potatoes and stir gently to coat.  Serve.
Homemade Pesto 
Time: 10 minutes
 Ingredients:
 Instructions:
Put everything but the oil in a blender.

Add 1/2 cup oil and blend.  Add more oil as needed.  It really depends on how tightly you packed the basil.  I used 1 cup of oil.

 

It will keep about a week in the refrigerator, up to 9 months in the freezer.
Three Bean Salad
Total time: 30 minutes
   Strangely, this is a salad that I didn't like as a child.  It was something I needed to put my own twist on, choose the beans and make the vinaigrette.  Use any beans you like; these are my preferences for a pretty and flavorful salad.
 Ingredients:
6oz (180gr) green beans
6oz (180gr) yellow wax beans
1 3/4 cup (15oz, 450gr) red kidney beans
1/2 orange or red bell pepper
2 tbs fresh snipped chives
2 tbs brown sugar
1 tbs Dijon-style mustard
1/4 cup (2oz, 60ml) tarragon white wine vinegar
1/4 cup (2oz, 60ml) olive oil
 Instructions:
Top and tail beans.  Cut in 1" (2.5 cm) lengths. 
Bring a medium saucepan half full of water to a boil over high heat. 
 Add beans and blanch for 4 minutes, until just tender. 
Drain beans and immediately submerge in an equal amount of very cold water. 
Drain again, spread out on paper towels and pat dry. 
Put into a serving bowl. 
Drain kidney beans and add to bowl. 
Chop red pepper and add. 
Snip chives and add. 
Vinaigrette:
In small bowl whisk together the sugar, mustard and vinegar. 
Slowly add the oil whisking constantly. 
Pour over beans and toss to combine. 

Set aside for at least 15 minutes.  Serve. 

This keeps for several days in the fridge

.
Cooking Schedule: 40 minutes for menu
Assemble all ingredients and utensils
Utensils: measuring cups, spoons, knives,
small bowl (used 2 X), whisk, 2 medium bowls, small
saucepan, medium saucepan, strainer, dish for
marinating, barbecue grill
Make marinade, spoon over chicken
Turn on / light barbecue grill
Heat water for blanching beans
Cut potatoes, cook
Top and tail beans, cut
Chop red pepper, put in bowl
Blanch beans
Drain, rinse kidney beans, add to bowl
Snip chives, add to bowl

Plunge beans in cold water
When cool, spread beans to dry
Cook chicken, reserve marinade
Make basting sauce, simmer
Remove potatoes, drain
Make vinaigrette for beans
Add beans to bowl
Add vinaigrette, stir to coat, set aside
Remove basting sauce from heat, baste chicken
Combine pesto, yogurt, stir into potatoes
Baste chicken
Mind the chicken, basting whenever
Ready?
Remove chicken
Serve