Menu Plan for the week of August 2, 2013: Friday's Recipes
Caprese Salad with Avocado
Grilled Salmon with Pesto Sauce
Pasta with Pesto Sauce
Green Beans with Bacon and Shallots
Cooking time:  40 minutes for menu          Cooking schedule: see below for instructions
     We're using a bit of pesto - both in this menu and the Potato Salad on Sunday.  Make it yourself, if you can, if not get a good commercial brand.  Either will keep in the fridge for several weeks.  Smooth the top of the leftover pesto, then pour a bit of olive oil on to seal for storage.
Tomato, Mozzarella and Avocado Salad
Total time: 10 minutes 
    The traditional Caprese Salad is just garden ripened tomatoes with Mozzarella de Bufala.  We added an avocado for a salad with the colors of the Italian flag...  Fresh mozzarella comes in a round, ball shape, packed in liquid, usually in a bag.  Save any leftover cheese in the liquid, in a small bowl.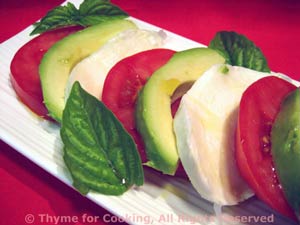 Ingredients:
4oz (120gr)  Mozzarella di Bufala if you can get it
1 - 2 garden ripe tomatoes
1 small avocado
1 large handful fresh basil
salad olive oil
Balsamic vinegar, optional
 Instructions:
Select 2 lovely, large dinner plates.
Slice mozzarella and tomatoes. 
Cut the avocado, remove pit and cut into slices. 
Tear large basil leaves in half, leave small ones whole.
Arrange tomato, avocado and mozzarella slices artfully on  the plates. 
Add basil leaves. 
Serve, with oil and vinegar

(optional)

on the side to be added by each person to taste.  
Note: if you have nice cruets for the oil and vinegar use them.  If not small bowls with small spoons work fine - or, just put the bottles on the table.....
Grilled Salmon with Pesto Sauce
Total time: 20 minutes
     We use a bit of salt for flavor then scrape it off before serving.  You can use freshly made or purchased Pesto.  Salmon should flake easily with fork when done but it should still be a bit pink in the center. 
 Ingredients:
2 salmon fillets, 6oz each (180gr each)
1 tbs olive oil
2 tsp fresh dill weed,  or

1 tsp dried

1/2 tsp coarse salt

Pesto Sauce

:
2 tbs pesto
3 tbs Greek or plain yogurt
 Instructions:
Sprinkle salmon with dill weed, then salt. 
Cook on barbecue grill 10 - 14 minutes, without turning, grill cover closed.  Time depends on thickness and heat of grill.

OR

put on baking sheet and roast in 400 F oven for 15 - 20 minutes, depending on thickness. 
Remove and gently scrape most of the salt and dill off the top.

Pesto Sauce: 

Combine pesto and yogurt.

To serve:

Spoon half the Pesto Sauce on top of each piece of salmon and serve.
Pasta with Fresh Pesto
Total time: 30 minutes
    Pasta with pesto is a classic dish from Genoa.  If you're lucky enough to have the basil, make it yourself.  If not, buy a good commercial brand.
 Ingredients:
3oz (90gr) linguini, fettuccini or spaghetti
3 tbs pesto sauce
1 tbs good olive oil
 Instructions:
Cook pasta according to package directions.  Drain.
Combine pesto and oil in the bottom of pasta bowl.
Add pasta and toss to coat. Serve.
Pesto Sauce
 Ingredients:
 Instructions:
Put everything but the oil in a blender. 
Add 1/2 cup oil and blend.  Add more oil as needed.  It really depends on how tightly you packed the basil.  I used 1 cup of oil. 
Green Beans with Bacon and Shallots 
Total time: 30 minutes 
Using bacon and onion or shallots to flavor green beans goes back to my childhood.  My mother would 'cook up a mess of beans', with lots of bacon and onion to flavor them, then finish the whole lot off with heavy cream.  It was wonderful.... I try for the flavor without quite so much artery clogging fat!
 Ingredients:
2 strips bacon (2oz, 60gr)
2 medium shallots
6oz (180gr) green beans
 Instructions:
Top and tail beans... cut off the ends. 
Cut into 1 1/2 inch lengths (4cm). 
Chop shallots.  
Sauté bacon in a small frying pan. 
When bacon is crisp remove and crumble. 
Drain all but 1 tbs fat from pan. 
Add shallots and sauté until transparent. 
Add beans, 1/4 cup of water, turn heat to low, cover and simmer until done - about 15 minutes.  If beans dry out add a little more water. 
When done transfer to serving bowl (there should be little or no liquid left - if there is just pour it off). 
Add crumbled bacon and serve.
Cooking Schedule: 40 minutes
Assemble all food, utensils and serving dishes
Utensils: measuring cups, spoons, knives,
scissors, small bowl, blender, pot and colander for
pasta, small skillet with lid, barbecue grill and mat,
bowl for pasta
Put water on for pasta
Make pesto, reserving some basil for salad
Turn on/light barbecue grill
Sauté bacon
Chop shallots
Turn bacon
Top and tail beans, cut
Remove bacon, fat
Sauté shallots

Sprinkle salmon with dill, salt
Make Pesto Sauce for salmon
Slice cheese, mozzarella
Pit avocado, slice
Add beans, water to skillet, cover, simmer
Arrange mozzarella, tomato, avocado, basil on plates
Start to cook pasta
Start to cook salmon
Serve salad.
Done?
Drain pasta
Remove salmon, scrape off salt
Mix 3 tbs pesto, oil in bowl, add pasta, toss
Crumble bacon, finish beans
Serve