Asparagus Pastries with Tarragon Cream
Grilled Lamb Chops Dijon
Quinoa with Fried Onions and Celery
Italian Green Beans with Onion
Grilled Lamb Chops Dijon
Total time: 20 minutes
    Mustard, garlic and rosemary are the perfect flavors for lamb....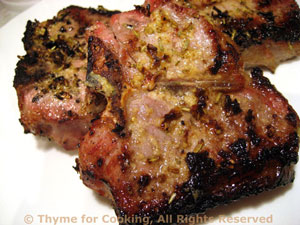 Ingredients:
4 - 6 center-cut lamb chops - depending on size
1 tbs oil
1 tsp garlic powder
2 tsp fresh or dried rosemary
2 tbs Dijon mustard
 Instructions:
Mix oil, garlic powder, rosemary, mustard and brush on both sides of chops.  Set aside for 15 minutes. 
Cook on barbecue grill for 2 - 5 minutes per side depending on thickness and desired degree of doneness (I don't know if that is a word - but you get the idea).  We do ours on a hot grill 2 minutes per side for medium rare.  When you think they might be close take one off, cut into center and peak.  You can always put them back on to cook more - you cannot undo... 
When done to your liking remove from heat and serve. 

Or

you can sauté in non-stick skillet for about the same amount of time - or until done.