Potato Soup
Total time: 60 minutes
   A soup with as many variations as there are cooks:  some like it puréed, some thicken it with flour; some like it thick, some thin; some use carrots, some wouldn't think of it.   This is mine.... at least, today's version.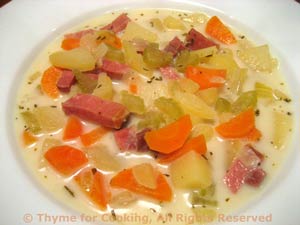 Ingredients:
 Instructions:
Roughly chop onion.
Peel carrots.  Slice by cutting in half the long way (in 2 or more sections) then into half circles.
Peel and slice potatoes to a similar size.
Slice celery, cutting the wide end in half lengthwise.
Cut ham into small pieces.
Melt butter in small soup pot or large saucepan. Add onion and sauté until it starts to get tender, about 5 minutes.
Add celery and sauté 5 minutes longer.
Add ham and sauté briefly.
Add carrots, potatoes, herbs and water.
Cover and cook until vegetables are tender, 30 - 40 minutes.

To finish:

remove bay leaves.
Add milk and heat through. Serve.
Note:  You could substitute cream for some or all of the milk for a richer soup.