Spinach White Bean and Red Pepper Salad
Seared Tuna with Mustard Sauce
Quinoa
Snow Peas and Carrots
Pan-Seared Tuna Mustard Cream 
Total time: 15 minutes
     This is best with good sushi-grade (ahi) tuna that is quickly seared on both sides and cool or just barely warm in the center.  If you get regular tuna you will need to cook it until it is closer to medium. If you use hot mustard (like I do) this sauce will have a bit of a kick... You can, of course, use less...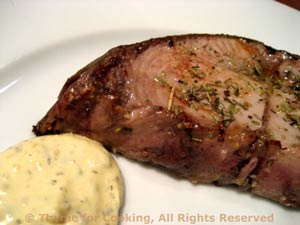 Ingredients:
2 tuna steaks, 12oz (360gr) total weight
2 cloves garlic
1 tbs olive oil
1 tbs lemon juice
sea salt for sprinkling (or other nice salt) optional
Mustard Cream:
1 tbs Dijon-style mustard
1/4 cup (2oz, 60gr) Greek yogurt
1 tbs salad olive oil
1/4 tsp garlic powder
1/2 tsp dried oregano
1/2 tsp dried tarragon
 Instructions
Peel garlic and cut in half. 
Heat oil and lemon in a large non-stick skillet over medium-high heat.
Add garlic and fry for 1 - 2 minutes.  Remove and discard.
Add tuna and sauté 3 - 5 minutes per side (depending on thickness - 3 minutes if 1 inch (2.5 cm), 5 minutes if 2 inch (5 cm)) for medium-rare, longer if you want them more done. 
Remove, sprinkle with sea salt and serve, Mustard Cream on the side.
Mustard Cream:
In a small bowl whisk together all ingredients except olive oil.
Drizzle in olive oil, whisking until combined and thick.