Grilled Honey Mustard Pork Chops
Brown Rice Pilaf
Courgette Patties
Cooking time:  30 minutes for menu      Cooking schedule: see below for instructions
       The rice is for 2 meals.  It may not seem like enough, but the vegetable is substantial in both meals...  It was plenty for us - and it is summer.....
Grilled Honey Mustard Pork Chops 
Total time: 30 minutes
   The heat of a good Dijon-style mustard is nicely tempered with the sweetness of honey.  I use the grocery store honey that comes in a squeeze bottle for marinades rather than the single-flower artisan honey that I like on my bread.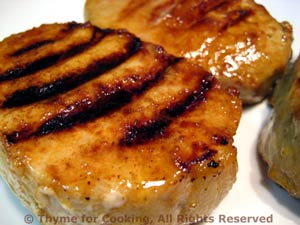 Ingredients:
2 - 4 pork chops, 12oz total (360gr) 

if boneless

Marinade:
1 tbs honey
1 tbs Dijon-style mustard
1 tbs red wine vinegar
1/2 tsp garlic powder
3 tbs olive oil
 Instructions:
Mix all ingredients for marinade and spoon on chops, turning to coat.
  Let marinate for 15 - 20 minutes. 
Cook on barbecue for 5 - 8 minutes per side or until done.  Should be slightly pink near bone when done - take a peak (techniques). 

Or

fry in nonstick skillet over medium-high heat the same amount of time.  Serve.
Note:  If you cook it too long pork tends to be dry - unless you cook it really, really long - but that's winter cooking ... this is summer.
Brown Rice Pilaf
Total time: 30 minutes
      I use Uncle Ben's Brown Rice which looks like brown Basmati and cooks quickly, in about 15 minutes.  If you can't find a quick cooking brown rice and don't want to wait for the traditional to cook in 40 minutes (or so) you can substitute white Basmati which also cooks in about 15 minutes.  Look for the brown, though, better flavor and more nutrition.  This recipe plans on making the Brown Rice Pilaf Salad with the leftover rice pilaf.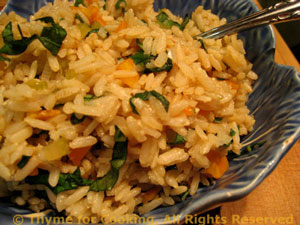 Ingredients:
3/4 cup (5oz, 150gr) quick-cooking brown rice
1 1/2 cups (12oz, 360ml) chicken stock
1/3 cup onion, finely chopped  

about 1/2 onion

1/3 cup green bell pepper, finely chopped  

about 1/3 pepper

1/3 cup carrot, finely chopped  

about 1 medium

1 tbs fresh snipped chives    

substitute 1 tbs dried

1 tbs fresh snipped oregano    

substitute 1 tsp dried

1 1/2 tsp soy sauce
 Instructions:
Finely chop all vegetables. 
Put all ingredients, except herbs, into a saucepan and cook - according to package directions for rice.  
When done, fluff with a fork, add herbs and serve.
Zucchini (Courgette) Patties
Total time: 25 minutes
   Up until 6 years ago I had never eaten a zucchini.  It started with my neighbor dropping them off... Then I planted them... This was one of my first recipes and still a favorite.  If you don't have bread crumbs, take a rolling pin over 2 - 3 plain crackers (put the crackers in a plastic bag). Do not grate the zucchini in advance.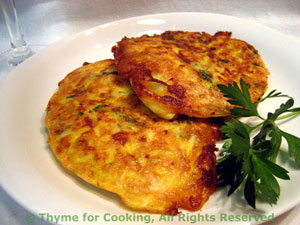 Ingredients:
1 medium zucchini, 8" (20cm)   about 2 cups, shredded
2 tbs chives
1 egg, beaten
2 tbs bread crumbs
2 tbs Parmesan cheese
Salt and pepper to taste
1 tbs olive oil
 Instructions:
Shred zucchini using large holes on box shredder or food processor. 
In medium bowl lightly beat egg, add bread crumbs, Parmesan, salt and pepper.  Mix well.
Add zucchini, chives and mix well. 
Heat large nonstick skillet over medium heat with 1 tbs oil.
Divide mixture into 4ths and spoon each 4th into pan, shaping into patty and patting down lightly.
Sauté 5 - 10 minutes, or until brown, then turn and fry other side the same. 
When brown, remove and serve.  A little freshly ground pepper and sea salt on top is a nice touch.
Cooking schedule: 30 minutes
Assemble all food, utensils and serving dishes
Utensils: measuring cups, spoons, knives,
small bowl, medium bowl, whisk, marinating dish,
box grater, small saucepan with lid, large nonstick
skillet, barbecue grill or large skillet
Light/turn on barbecue grill if using
Mix marinade for pork
Pour marinade over pork, set aside
Chop onion, carrot, pepper
Chop shallot for zucchini/courgette
Put rice, stock, vegetables, soy sauce in pan
Cover rice, cook
Whisk egg

Add crumbs, Parmesan, whisk
Grate zucchini
Add zucchini, shallot, to egg, stir
Heat oil in skillet
Divide zucchini mixture into 4ths, spoon in skillet
Pat zucchini out a bit, sauté
Start to cook pork
      Pause while stuff cooks
Check the rice, fluff if/when done
Turn the zucchini patties
Turn the pork
      Pause....
Remove zucchini/courgette patties
Remove pork, serve