Teriyaki Orange Turkey Cutlets
Grilled Spicy Parmesan Potatoes
Sautéed Teriyaki Courgette (Zucchini)
Cooking time: 35 minutes for menu          Cooking schedule: see below for instructions
     Cleaning out the fridge marinades.... If you don't have orange marmalade use orange juice; we won't be using the orange marmalade again this season. 
Teriyaki Orange Turkey Cutlets
Total time: 25 minutes
    This is a slightly hot, slightly sweet marinade that goes well with the mild taste of turkey.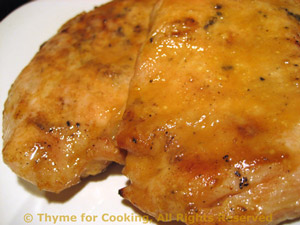 Ingredients:
 Instructions:
Whisk together all ingredients (except turkey). 
Spoon over turkey and let marinate for 10 - 15 minutes. 
Remove turkey from marinade and cook on barbecue grill for 4 - 6 minutes per side or until done, basting with marinade before turning. 

OR

sauté in nonstick skillet for 4 - 6 minutes a side or until done. 
Remove and serve. 
Roast Spicy Parmesan Potatoes
Total time: 30 minutes
    Simple, grilled or roasted potatoes are perfect with equally simple, grilled meats.  These have a light kick and are finished with a sprinkle of Parmesan cheese.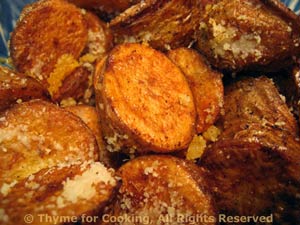 Ingredients:
2 medium potatoes or 4 small 
1 tsp chili powder
1/2 tsp cumin
1/2 tsp dry mustard
1/4 tsp garlic powder
1 tbs Worcestershire sauce
1 tbs olive oil
2 tbs Parmesan cheese
 Instructions:
Sautéed Teriyaki Zucchini (Courgette)
Total time: 25 minutes
   Thickly sliced, then fried in oil.  The Teriyaki sauce added near the end forms a wonderful glaze.... Another variation for zucchini.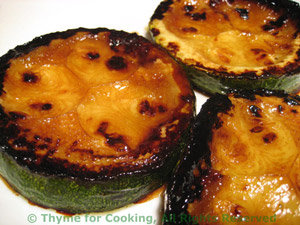 Ingredients:
1 yellow or green courgette (zucchini), 8 inches (20cm) long
1 tbs olive oil
2 tbs Teriyaki sauce
 Instructions:
Cooking Schedule: 35 minutes
Assemble all ingredients and utensils
Utensils: measuring cups, spoons, knives,
small bowl, dish for marinating, medium bowl, large
skillet, barbecue grill, grill pan
Light. turn on barbecue grill
Make marinade and spoon over turkey
Put oil, spices, Worcestershire, rosemary in bowl
Mix well
Slice potatoes, add to bowl, stir to coat
Put potatoes in grill pan, cook

Slice zucchini, sauté
Mind the potatoes
Cook turkey
      Pause while everything sizzles
Turn zucchini
Turn turkey
Add Teriyaki to zucchini, turn to coat, sauté
Remove potatoes
Remove turkey
Remove zucchini
Serve