Pork Chops with Peppers and Olives

Potatoes Savoyard
Broccoli with Garlic Butter

Cooking time: 25 minutes for menu        Cooking schedule: see below for instructions

      Use the leftover potatoes from Saturday for this quick dinner.
Braised Pork Chops with Peppers and Olives 
Total time: 25 minutes
     Pork chops, quickly seared to caramelize the surface, then braised for 15 minutes with peppers, olives and a bit of spicy tomato sauce makes an easy weeknight dinner.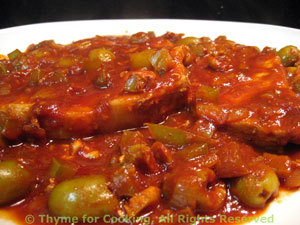 Ingredients:
2 - 4 pork chops, depending on size, (12oz, 360gr) total weight
2 tsp olive oil
2 tsp chili powder
1 onion
1/2 green or red bell pepper
1/2 cup green or black olives
2 cloves garlic
1 cup (8oz, 240ml) tomato sauce
1 tbs Worcestershire
 Instructions:
Chop onion and pepper.
Mince garlic.
In medium nonstick skillet heat oil over medium-high heat.  Sauté pork chops until lightly browned, about 3 minutes per side.
Remove and set aside.  Add chili powder, onions, garlic, pepper to pan and sauté 5 minutes.
Return chops to pan.
Add tomato sauce, Worcestershire sauce and olives.  Reduce heat to low, cover and simmer 10 - 15 minutes, until chops are done and tender.
Serve.
Potatoes Savoyard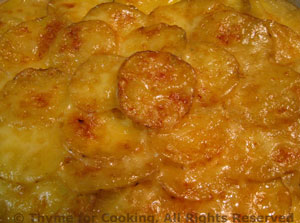 Total time: 20 minutes
 
 Ingredients:
 Instructions:
Reheat the potatoes in a a 350F (180C) oven for 20 minutes or in a microwave until hot.
Broccoli with Garlic Butter  
Total time: 20 minutes
     A bit of garlic and butter can really bring out the flavor of broccoli and raise it from the mundane to the fantastic!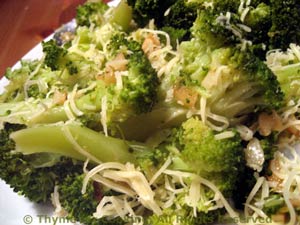 Ingredients:
1/2 head broccoli   enough for 2 persons
2 tbs butter
3 cloves garlic
2 tbs shredded cheese
 Instructions:
Cut broccoli into bite size florets and stems.
Put in steamer basket in saucepan with an inch of water in bottom.  Put on medium heat and steam for 12 - 15 minutes or just until done, careful not to overcook. 
Remove from pan and set aside, discarding water.
In same pan heat butter.
Mince garlic and add to pan.
Sauté briefly, then add broccoli.  Toss well to coat.
Put broccoli into the serving dish, sprinkle with cheese and serve.
Cooking schedule: 25 minutes
Assemble all food, utensils and serving dishes
Utensils: measuring cups, spoons, knives, large nonstick skillet, medium saucepan with steamer basket and lid, dish for reheating potatoes
Turn oven on if using, 350F (180C)
Heat oil in skillet
Add pork chops, brown
Chop onion, pepper
Mince all garlic
Turn chops
Cut broccoli
Remove chops

Add chili powder, onion, pepper, garlic to skillet, sauté
Start to reheat potatoes
Return chops to skillet
Add tomato sauce, Worcestershire, olives
Cover, simmer
Steam broccoli
      10 minute break while stuff cooks
Remove broccoli, empty water
Sauté garlic in butter
Add broccoli, toss to coat
Remove potatoes
Sprinkle broccoli with cheese
Serve all