Pork Tenderloin with Sweet and Sour Cabbage
Fried Smashed Potatoes
Cooking time:  35 minutes for menu           Cooking schedule: see below for instructions
         The brown sugar and vinegar treatment is more typical of red cabbage but works just as well with white.  The pork tenderloin is thickly sliced, quickly browned and finished with the cabbage.  You could substitute pork chops if you prefer.  Fried, Smashed Potatoes round out the meal.  Cook the brown rice for tomorrow night.
Pork Tenderloin with Sweet and Sour Cabbage 
Total time: 30 minutes
   Pork and cabbage are a very traditional pairing.  I've updated it a bit, using pork tenderloin and braising the cabbage for only a short period, leaving just a hint of crunch, closer to a warm salad.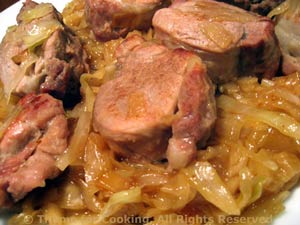 Ingredients:
1 pork tenderloin, 14oz (420gr)
1 onion
1 1/2 cups shredded cabbage
3 tbs Balsamic or red wine vinegar
2 tbs brown sugar
1/3 cup (3oz, 90ml) chicken stock
1 tbs olive oil
2 tsp cornstarch (maizena, corn flour) dissolved in 1 tbs chicken stock
 Instructions:
Cut pork into 1" (2.5cm) slices. 
Chop onion. 
Shred cabbage by cutting slice off of head, lay the slice cut side down and cut into 4ths, then, cutting across, slice 1/8 inch thick.  Do not use the core of the cabbage - you'll recognize it when you see it. 
Heat oil in large nonstick skillet. 
Add onion and sauté until tender. 
Move onion to the side and add pork, browning quickly, about 3 minutes per side. 
Remove pork and add vinegar, sugar and chicken stock.  Stir well. 
Add cabbage and stir to combine. 
Put pork slices on top, cover and bring to a boil. 
Reduce heat, cover and simmer for 15 minutes, until cabbage is tender. 
Uncover, increase heat. Remove pork to small platter. 
Stir cornstarch mixture into cabbage to thicken. 
Spoon around pork and serve.
Fried Smashed Potatoes
Total time: 35 minutes
     Boiled potatoes, smashed and fried in butter and olive oil.... A bit of salt and pepper, nothing more...  These are meant to be rough, big chunks mixed with small bits, and brown.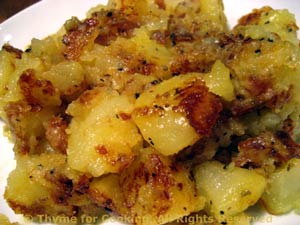 Ingredients:
2 medium potatoes
2 tsp butter
2 tsp olive oil - optional
 Instructions:
Cut potatoes into large chunks and cook in rapidly boiling water until tender, about 15 minutes. 
Cover the pot to start, then partially remove to prevent boiling over.  When done, drain. 
Heat butter in a medium nonstick skillet over medium-high heat.  Add potatoes, and roughly smash down with the back of a large spoon or spatula.
Leave, undisturbed, 5 - 7 minutes, until browning nicely.
With spatula, lift up in sections, turn and smash down again. 
Leave for 4 - 5 minutes and repeat. 
Drizzle with olive oil if you like, and leave for 5 minutes longer. 
Add salt and pepper, remove and serve. 
Cooking schedule: 35 minutes
Assemble all food, utensils and serving dishes
Utensils: measuring cups, spoons, knives,
medium saucepan with lid, large skillet with lid,
medium nonstick skillet, small saucepan with lid
for rice
Cut potatoes into chunks, cook
Cook 1/2 cup brown rice (1 cup stock) for tomorrow
Chop onion, sauté
Slice pork
Slice cabbage
Move onions to the side, brown pork
Turn pork
Heat butter in skillet for potatoes

Drain potatoes, add to skillet, smash
Remove pork
Add stock, sugar, vinegar to skillet, stir
Add cabbage, stir
Return pork, cover, simmer
    When rice is done, refrigerate
Turn potatoes
    Pause while stuff cooks
Turn potatoes, drizzle with oil
Dissolve cornstarch in stock
Remove pork
Thicken cabbage/sauce with cornstarch
Remove potatoes
Serve