Chard, Pork and Chevre Quiche
Cabbage Salad
Cooking time: 60 minutes for menu          Cooking schedule: see below for instructions
      Once again, quiche with a brown rice crust.  Even though the chard was cooked it still floated to the top.  It's not as pretty as some, but great taste and perfect way to use leftover pork or chicken.  If you have any yogurt left after making the cabbage salad you can substitute it for some of the milk.  
Chard, Pork, Goat Cheese and Mushroom Quiche
Total time: 60 minutes
   The chard is quickly sautéed, mainly to help it fit into the quiche dish.  You can use sautéed chicken breasts, leftover pork; chevre or Brie.  This is a very flexible recipe.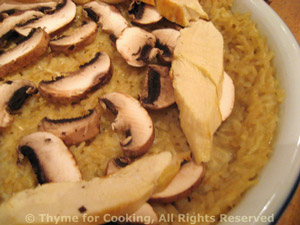 Ingredients:
2/3 cup quick-cooking brown rice    substitute Basmati
1 1/3 cup (11oz, 330ml) chicken stock
4 eggs
1/4 cup (1oz, 30gr) shredded cheese, any flavor   it helps to bind the crust
8oz (240gr) sliced pork
6oz (180gr) chard
3oz (120gr) mushrooms
4oz (120gr) goat cheese    or other strong, soft cheese
1 tsp oregano
2 tsp olive oil, plus a bit for the dish
1 cup (8oz, 240ml) milk
Instructions: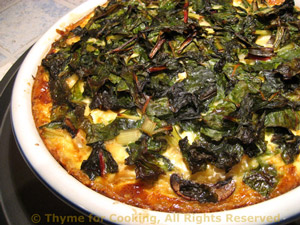 The Crust: 
Cook rice in stock according to package instructions. 
When done, spread out on a plate for 5 minutes to allow to cool a bit.
Lightly oil a 10" (25 cm) pie or quiche plate.
Lightly whisk 1 egg.
Add 1/4 cup shredded cheese and the cooked rice. Mix well. 
Pat into the quiche plate, working it up the sides as best you can. 
Bake in 400F (200C) oven for 8 minutes. Remove.
The Filling:  
Wash the chard and trim any bad bits. 
Stack the leaves together and fold over, the long way. Slice into thin strips, using both leaves and stems.
Heat oil in a large skillet.  Add the chard to the skillet and sauté until wilted and tender, about 7 minutes. 
Remove from heat.
Clean and slice mushrooms.
Slice cheese 1/4" thick. 
Slice pork. 
Whisk eggs and milk together.

To assemble:

Lay the mushrooms on the crust. 
Top with the sliced pork, the cheese and the chard. 
Sprinkle with oregano.  
Pour the egg mixture over all and bake for 30 - 40 minutes, until center has set. 
Remove and let rest 5 minutes.
 Slice and serve.
Note: When baking quiches or tarts, I put the dish on a sturdy baking tray, before pouring in the egg mixture, for easier handling. The dish can get very full.
Creamy Cabbage Salad
Total time: 10 minutes 
    I always think of cabbage salad as summer picnic food.  I am trying to expand my horizons.  Plus, when eating seasonally, there are not a lot of salad choices in winter.  This is a simple, yogurt-based dressing rather than the usual mayonnaise base.  The carrot is optional, but I love the color!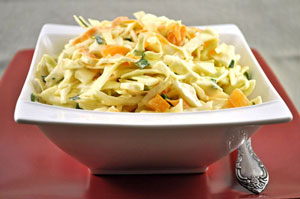 Ingredients:
3 cups shredded cabbage 
1 carrot
Creamy Yogurt Dressing:
1/2 cup Greek yogurt (4oz, 120gr)
2 tsp Dijon-style mustard
1 tbs white Balsamic Vinegar
1 tsp dried Herbes de Provence
1 tbs fresh, snipped chives or 1 tsp dried
2 tbs salad olive oil
 Instructions:
Shred cabbage: cut a slice off of the head, lay the slice cut side down, cut into 4ths, then, cutting across, slice very finely: 1/16" - 1/8" (.3cm).  Do not use the core of the cabbage - you'll recognize it when you see it.  
Slice the carrot into paper thin strips using the vegetable peeler. 
Put cabbage and carrot into a large bowl. 
Creamy Yogurt Dressing:
In small bowl whisk yogurt, mustard and vinegar. 
Add oil, a bit at a time and whisk well. 
Add herbs. 

This will keep a week.

Add half of the dressing and toss well to combine.  Add more dressing according to taste and the amount of cabbage. 
Cooking Schedule: 60 minutes
Assemble all ingredients and utensils
Utensils: measuring cups, spoons, knives,
scissors, whisk, medium bowl, small saucepan,
lid, large skillet, quiche or pie plate, baking tray,
small bowl, large bowl
Cook rice
Turn oven on, 400F (200C)
Wash, trim, slice chard
Sauté chard
Slice pork, cheese
Trim, slice mushrooms
Remove chard from heat, set aside
Make Yogurt Dressing
Oil quiche dish
      Wait for rice

Spread rice out to cool
Whisk egg
Add cheese, rice, mix
Pat into quiche dish
Bake crust
Shred cabbage, put into bowl
Shred carrot, add to cabbage
Remove crust, assemble quiche
Whisk eggs, milk
Place quiche on baking tray
Pour eggs over quiche, bake
Add dressing to cabbage, taste, adjust, fridge
   25 minute break while quiche bakes
Remove quiche when done, let rest
Get the cabbage salad from the fridge
Slice quiche, serve all