Barbecued Pork Loin
Barbecued Potato Chips
Zucchini (Courgette) and Tomato Gratin
Cooking time:  60 minutes for menu    Cooking schedule: see below for instructions
       We did a small pork loin; enough for dinner this night and leftovers for Sunday's quiche.  If you get a larger roast, use some for sandwiches - or whatever.  The Zucchini Tomato Gratin will be for 2 dinners.
Barbecued Pork Loin
Total time: 60 minutes
    The Grill Expert came up with the idea of having a very thin basting sauce to keep the pork moist... It worked. The pork is enough for 2 meals.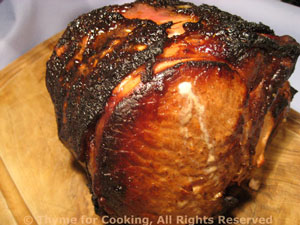 Ingredients:
1 boneless pork loin roast, 32oz (960gr)
2 tsp chili powder
1 tsp garlic powder
Basting Sauce:
3/4 cup coffee
2 tbs soy sauce
2 tbs red wine vinegar
Barbecue Sauce:
1/2 cup ketchup
2 tbs balsamic vinegar
2 tbs molasses
2 tbs soy sauce
3 tbs oil
2 tsp Dijon-Style mustard
1 tsp garlic powder
1 tsp dried oregano
 Instructions:
Mix chili powder and garlic. 
Rub onto pork loin. 
Cook pork loin on barbecue grill, over indirect heat with the cover closed.  Pork is done when it reaches an internal temperature of 145F (62C)  Use an instant read or a remote meat thermometer for best results. If you don't have either, take the roast off and slice into it after 40 - 50 minutes (depending on weight and shape) to test.  It should be almost cooked through with a bit of pale pink in the center.
Mix coffee, soy sauce and red wine vinegar. 
Spoon sauce over pork every 8 - 10 minutes starting immediately.  
In a small bowl whisk together all ingredients for

Barbecue Sauce

. 
Baste pork with 3 tbs barbecue sauce after 40 minutes. Serve the rest on the side.
When pork is done, remove, cover with foil and let rest for 5 minutes. 
Slice and serve, barbecue sauce on the side. 
Could also be roasted in a 400F (200C) oven for about the same amount of time.
Barbecued Potato Crisps
Total time: 50 minutes
   Some people eat ketchup on French Fries (chips).  I prefer Aioli mayonnaise on mine.... But why not barbecue sauce on crisps?
 Ingredients:
 Instructions:
Slice potatoes the long way into 3/16 inch (.5cm) thick slices.  You should get 5 - 6 slices from each potato - discard 'ends'. 
Mix olive oil and salt together in a wide bowl.  Add potato slices and stir/turn to coat. 
Lay on a nonstick baking sheet (if you have one - just makes it easier) with a lip.
Put in a 400F (200C) oven and bake for 30 minutes. 
After 30 minutes, remove pan, turn potato slices, spread a bit of Barbecue Sauce thinly over the tops and return to oven for 10 more minutes. 
When done, remove from pan and serve.
Zucchini (Courgette) and Tomato Gratin
Total time: 55 minutes

   Thin slices let the flavors meld together easily.  The breadcrumbs between the layers soak up all the goodness from the tomatoes and the zucchini.... All topped with a golden, cheesy crust.  This will be enough for 2 meals.  
 Ingredients:
1 medium  - large zucchini, 9" long (22cm)
2 garden fresh tomatoes
2 tbs fresh chives, snipped
2 tbs fresh basil, snipped
1/4 cup bread crumbs
1/2 cup (2oz, 60gr) shredded cheese
2 tbs olive oil
 Instructions:
Thinly slice zucchini, about 1/8th inch (.65cm). 
Slice tomatoes as thinly as you can, but at least as thin as zucchini. 
Snip herbs. 
Put 1 tbs olive oil in 8 or 9 inch (20 - 25cm) square glass baking dish and swirl around to coat bottom.  
Layer half of the zucchini, then half of the tomatoes, half of the herbs, half of the crumbs and half of the cheese. 
Repeat layers once. 
Drizzle remaining 1 tbs oil over top. 
Cover with foil and bake in 400F (200C) oven for 30 minutes. 
Remove foil and continue to bake for another 15 minutes. 
Serve from baking dish.
Cooking Schedule: 60 minutes for menu
Assemble all food, utensils and serving dishes
Utensils: measuring cups, spoons, knives,
small bowl, whisk, medium bowl, baking dish,
baking sheet, barbecue grill
Light/turn on barbecue grill
Turn oven on 400F (200), arrange 2 shelves
Make rub for pork, rub on
Start to cook pork
Make basting sauce for pork, baste
Slice zucchini
Slice tomatoes
Snip all herbs
Assemble tomato zucchini gratin, bake
Baste pork
Mix oil, salt for potatoes

Cut potatoes, add to salt/oil
Arrange potatoes on baking sheet, bake
Baste pork
Make Barbecue Sauce
Baste pork
    Pause while everything cooks
Uncover zucchini tomato gratin
Baste pork with Barbecue sauce
Remove potatoes, turn
Spread with Barbecue sauce, bake
    Pause again
Remove tomato zucchini gratin
Remove pork, let rest
Remove potatoes
Slice pork
Serve