Pork Chops with Capers
Quinoa  with Mushrooms
Sautéed Carrots
Cooking time:  35 minutes for menu      Cooking schedule: see below for instructions
      I normally buy bone-in chops, then cut the bone out before cooking.  For bone-in plan on 16 - 18oz (500gr). 
Pork Chops with White Wine and Capers
Total time: 35 minutes
    Boneless pork chops, quickly browned then simmered in a white wine caper sauce.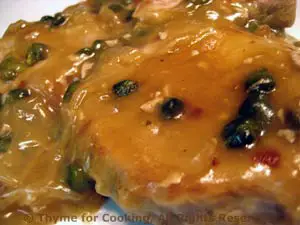 Ingredients:
2 - 3 boneless pork chops, 12oz (360gr) total weight
3 tbs flour
3 tbs capers
1 clove garlic
1 tbs olive oil
1/2 cup (4oz, 120ml) beef broth
1/2 cup (4oz, 120ml) white wine
 Instructions:
Spread flour on a plate.  Dip both sides of pork chops in flour, shaking off excess. 
Heat oil in a nonstick skillet over medium-high heat.  Add pork and brown on both sides, about 5 minutes each. 
Finely chop the garlic.  Add garlic and sauté 30 seconds. 
Add stock, white wine and capers, cover, reduce heat to low and simmer 15 minutes.  
Uncover, increase heat and simmer until sauce has reduced and thickened slightly.
Remove and serve.
Quinoa with Mushrooms
Total time: 20 minutes
    This near-perfect food of the Incas has slowly been gaining recognition in the culinary world. It cooks quickly and has a nutty flavor that goes with everything.  Here it's paired with the earthy taste of mushrooms and shallots.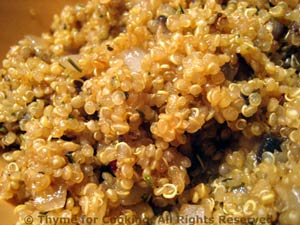 Ingredients:
1/2 cup (3.5oz, 100gr) quinoa
1 cup (8oz, 240ml) chicken stock
2 shallots
1 1/2oz (45gr) mushrooms 

or whatever is left

2 tsp olive oil
 Instructions:
Combine quinoa and stock in small saucepan. 
Cover and bring to a boil.
Reduce heat and simmer until done, about 15 minutes  (or whatever your package says). 
Finely chop shallots and mushrooms.
In a small skillet heat olive oil.  Add shallots, mushrooms, and sauté until tender, about 5 minutes.
Stir into quinoa when quinoa is cooked. 
Spoon into a serving dish and serve.
Sautéed Carrots
Total time: 25 minutes
    I always have carrots in my fridge.  They keep well so don't have to be used right away and it's nice to have a veg around in case of emergency!  Besides, they're good and good for us!
 Ingredients:
2 - 3 carrots 
1 tbs olive oil
1 tbs butter
1/4 cup chicken stock
 Instructions:
Peel carrots, cut in half, then each half again so you have carrot sticks. 
Melt butter and oil in a small skillet just big enough to hold carrots. 
Add carrots and sauté 10 minutes, turning occasionally until they develop a golden color.
Add stock, cover and continue cooking until done, another 7 - 10 minutes. 
Uncover, cook off pan juices and serve.
Cooking schedule: 35 minutes
Assemble all food, utensils and serving dishes
Utensils: measuring cups, spoons, knives,
plate, medium skillet. lid, 2 small skillets, one lid,
small saucepan with lid
Put flour on plate
Heat oil in medium skillet, medium-high heat
Dip pork chops in flour, add to skillet, brown
Cut carrots
Turn chops
Sauté carrots
Mince garlic, add to chops

Add stock, wine, capers to chops, cover, cook
Start to cook quinoa
Turn carrots
Chop shallots
Brush, trim, chop mushrooms
Add stock to carrots, cover, simmer
      Pause while stuff cooks
Sauté shallots, mushrooms
Uncover chops, increase heat to reduce sauce
Uncover carrots, reduce juices
Stir quinoa into mushroom / shallot
Serve