Stuffed Chicken Breasts
Pommes Anna
Mangetout with Green Garlic
Cooking time: 75 easy minutes for menu          Cooking schedule: see below for instructions
       One of our last oven dinners for the season, but with a hint of spring.  A wee break while the potatoes and chicken cook, then do the snow peas at the last minute.
Chicken Breasts Stuffed with Ham, Spinach and Cheese
Total time: 40 minutes
     These are easy to make: slice a pocket, fill and tie.  They're baked with a drizzle of olive oil to make a crunchy crust.  I snipped the string in a few places to make it easier to remove but left it on when serving: they looked nicer! Get breasts that are on the large side.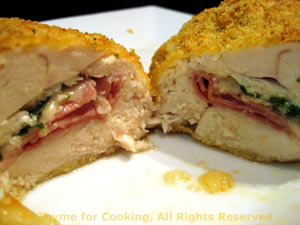 Ingredients:
2 chicken breasts, boneless, skinless
1.5oz (45gr) Gruyère or other hard cheese, sliced
2 slices Prosciutto (about 2oz, 60gr)
6 - 8 small spinach leaves
1 egg
1/4 cup dried bread crumbs
2 tbs Parmesan, grated
1 tsp plus 1 tbs olive oil
kitchen string
 Instructions:
With a sharp knife make a long slit in the edge of the chicken breast - cutting horizontally and being careful not to cut through the other side.  Make the cut on the 'straight' edge of the breast.  You should have a pocket the shape of the breast with 1/2 inch of 'uncut' chicken around 3 sides. 
Slice the Prosciutto and cheese to fit inside. 
Arrange 2 or 3 layers of Prosciutto and 1 or 2 of cheese in the 'pocket'.
Put the spinach on top of the cheese. 
Wrap the entire breast with kitchen string to hold it together - and keep as much cheese inside as possible. 
Lightly whisk egg and put into a shallow bowl or deep plate. 
Mix bread crumbs and Parmesan and put on to another plate. 
Lightly oil the center of a baking sheet, a large enough place for both breasts with an inch or 2 in between. 
Dip the tied breasts into the egg, coating all sides, then into the crumbs, coating all sides (use your fingers). 
Lay on the oiled sheet. 
Drizzle the tops with the rest of the oil and bake, 400F (200C) for 30 minutes, until the crust is golden and the chicken done. 
Remove, snip the string in a few places, and serve.
Pommes Anna
Total time: 75 minutes    60 minutes baking
      A mandolin makes quick work of slicing the potatoes but is not necessary.  Clarifying the butter is not difficult, just a bit fussy.  Try to make the first layer as neat as you can.  Remember this will be the lovely, golden brown top when you unmold the Pommes Anna.  This is enough for 2 meals or 4 persons.
 Ingredients:
 Instructions:
Clarify butter: Melt butter in a small pan over low heat just so that it is melted. 
You will notice the white milk solids in the butter.  We don't want these.  With a small spoon skim off as much of the floating milk solids as you can. 
Then carefully pour the clear (mostly) butter into a glass measuring cup, leaving behind the remaining solids. 
Using a basting brush and some of the clarified butter, generously butter the inside of a round, glass baking dish.  Mine is about 8" (20cm) in diameter and the potatoes will come up about 2/3's to the top. 
Slice the potatoes into paper thin slices, using a mandolin, box slicer, food processor, or a sharp knife. 
Line the bottom of the baking dish with a layer of potato, brush very lightly with butter.
Add a layer of potato, brush with butter. 
Repeat until you have used all of the potatoes. 
If you use salt & pepper put a little on the middle and top layers. 
Cover with a lid or foil and bake in 400F (200C) oven for 60 minutes.  
Remove, and let rest for 5 - 10 minutes. 
Invert on to a large plate - it should retain it's shape. 

Slice half of the Pommes Anna into wedges and serve

. 

Save the other half for another meal.
Sautéed Snow Peas (Mangetout) with Green Garlic
Total time: 15 minutes
     The quintessential spring dish: snow peas and green garlic.  If the snow peas are small, leave them whole.  If they are large (2", 5cm) cut in half of thirds, at an angle.
 Ingredients:
 Instructions:
Peel and slice green garlic, using as much green as you can.
Clean pea pods - snip off the stem end.  Cut large pods into pieces, at an angle, if desired.
Heat butter and oil in nonstick skillet over medium heat. 
Add sherry, green garlic, pea pods and sauté 5 - 7 minutes, depending on size, stirring frequently. 
Remove and serve.
Cooking Schedule: 75 minutes
Assemble all food, utensils and serving dishes
Utensils: measuring cups, spoons, knives,
round baking dish, slicer, baking sheet, medium
skillet, kitchen string
Turn oven on, 400F (200C), arrange 2 shelves
Clarify butter
Slice potatoes
Assemble Pommes Anna, cover, bake
Slice pockets in chicken breasts
Prepare spinach, cheese, Prosciutto for chicken
Stuff chicken, tie with kitchen string
Oil baking sheet
Grate Parmesan

Whisk egg
Mix bread crumbs, Parmesan
Dip chicken in egg, crumbs, lay on baking sheet
Drizzle oil over chicken, bake
Trim snow peas
Slice green garlic
      25 minute break while everything cooks
Remove potatoes, let rest
Remove chicken, let rest
Sauté snow peas, green garlic
Unmold Pommes Anna onto plate
Snip string on chicken
Slice Pommes Anna
Remove snow peas, serve all