Grilled Turkey Cutlets Piccata
Couscous with Tomatoes and Basil
Sautéed Zucchini (Courgette) with Feta and Olives
Cooking time: 30 minutes for menu          Cooking schedule: see below for instructions
     Quick, easy and simple for summer.  Substitute chicken breasts if you prefer... or thin pork or veal cutlets. 
Grilled Turkey Cutlets Piccata   
Total time: 30 minutes
    Turkey cutlets cook quickly, and work very well with marinades.  If you can't get them get a turkey tenderloin and either slice it into thin cutlets yourself or ask your butcher. You could also use boneless, skinless chicken breasts.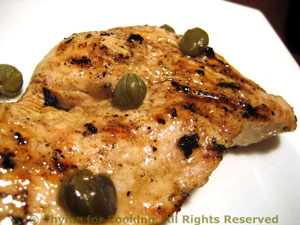 Ingredients:
2 - 4 turkey cutlets, depending on size,  12oz total weight  (360gr)
2 tbs capers (with liquid)
2 tbs lemon juice
2 tbs olive oil
 Instructions:
Put capers, lemon juice and oil in small bowl and whisk to combine - mixture will get very thick.
Put turkey in a shallow dish, spoon marinade over and let marinate for 15 minutes. 
Remove from marinade and cook on barbecue grill for 3 - 4 minutes per side depending on thickness - or until done.

Or

can be sautéed in nonstick skillet over medium heat for the same time - or until done. 
Remove from heat and serve, with a few more capers sprinkled on... 
Couscous with Tomatoes and Basil
Total time: 15 minutes
    Simple couscous finished with garden-ripe tomatoes, fresh basil and a light vinaigrette- easy and delicious!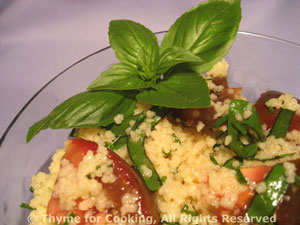 Ingredients:
1/2 cup (3oz, 90gr) couscous
3/4 cup (6oz, 180ml) chicken broth
1 medium ripe tomato, any color
2 tbs snipped basil
1 tbs salad olive oil
1 tbs white Balsamic vinegar
1/4 tsp Dijon-style mustard
 Instructions:
Heat chicken broth to a boil. 
Put couscous in a medium bowl. 
When broth is boiling pour over couscous, cover and let stand for 10 minutes... Do not stir it.
Snip basil. 
Slice tomato then cut slices into quarters. 
Whisk mustard, oil and vinegar together in a small bowl. 
When couscous is ready, add tomato, basil, vinaigrette, fluff gently with a fork to combine and serve.
Sautéed Zucchini (Courgette) with Feta and Olives
Total time: 20 minutes
    Use a smaller zucchini (courgette) for this dish, and a yellow or red pepper.  Add the feta and olives at the end so they only start to get warm.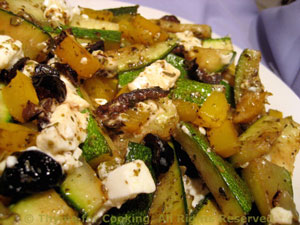 Ingredients:
1 courgette (zucchini), about 7" (17cm) long
1/2 yellow bell pepper
1/3 cup dry, Greek olives, about 12
1 1/2 oz (45gr) feta
1 tbs dried oregano
1 tsp Worcestershire
2 tsp olive oil
 Instructions:
Cut zucchini into sticks about 1 1/2" (4cm) long. 
Roughly chop pepper.
Heat oil in a large nonstick skillet over medium heat. 
Add pepper, zucchini and sauté until zucchini is tender, 7 - 10 minutes. 
Add oregano, Worcestershire and stir to combine.
Pit olives if needed and cut into thirds.
Crumble feta. 
Stir olives and feta into zucchini, remove from heat and serve.
Cooking schedule: 30 minutes
Assemble all food, utensils and serving dishes
Utensils: measuring cups, spoons, knives,
small bowl, whisk, (used 2 x) small saucepan,
medium bowl, lid, medium skillet, barbecue grill
or large skillet, dish for marinating
Turn on/light barbecue grill
Make marinade, pour over turkey
Slice zucchini
Chop pepper
Heat stock for couscous
Pit olives if needed
Snip basil

Slice tomato
Sauté pepper, zucchini
Put couscous in bowl, pour stock over, cover
Start to cook turkey
Mind the zucchini
Crumble feta
Mix oil, vinegar, mustard for couscous
Turn turkey
Add oregano, Worcestershire to zucchini
Add olives, feta to zucchini, remove from heat
Finish couscous
Remove turkey
Serve