Turkey Cutlets with Horseradish Sauce
Quinoa with Fried Onions
Broccoli with Butter and Herbs
Cooking time: 30 minutes for menu           Cooking schedule: see below for instructions
          Horseradish is a most under-used condiment.  I like to add a bit for a different type of heat than typical hot sauce.  The turkey cutlets cook quickly making this an easy weekday dinner.
Turkey with Horseradish Sauce  
Total time: 30 minutes
      You can use turkey tenderloin - sliced horizontally to make cutlets, or kept whole and simmered another 10 minutes, then sliced before serving.  The combination of mustard and horseradish gives this dish an interesting 'warmth', but not heat like pepper sauce would.
 Ingredients:
12oz (360gr) turkey cutlets
1/2 onion
2 cloves garlic
1 rib celery
1 3/4 cups (15oz, 450gr) whole tomatoes
2 - 3 tbs prepared horseradish
2 tsp Dijon-style mustard
1/3 cup (3oz, 90gr) yogurt
1 tsp dried basil
1 tbs olive oil
2 tsp cornstarch (maizena, corn flour) dissolved in 1 tbs water
 Instructions:
Chop onion and celery.
Mince garlic.
Drain tomatoes, reserving juices.  Roughly chop tomatoes.
Heat oil in medium nonstick skillet.  Add onion, celery, garlic and sauté about 5 minutes.
Move vegetables to the side and add turkey cutlets.  Lightly brown on each side, about 5 minutes.
Remove turkey.  Add tomatoes, reserved juices, mustard, horseradish and basil.
Stir well.  Bring to a boil.
Return turkey to pan, reduce heat and simmer, uncovered, 5 - 10 minutes, depending on thickness of turkey.  Stir occasionally.  (If using a whole, uncut tenderloin, cover and simmer 10 - 15 minutes.)
Dissolve cornstarch in water.
Remove turkey to small platter.
Increase heat under sauce.  Add cornstarch and stir until thickened and clear.
Add yogurt and stir.
Spoon some sauce over turkey and serve, remaining sauce on the side.
Quinoa with Fried Onions and Celery
Total time: 25 minutes
   This near-perfect food of the Incas has slowly been gaining recognition in the culinary world. It cooks quickly and has a nutty flavor that goes with everything. It is normally ready to cook, but if not it will need to be rinsed first.  If you can't find it, substitute Basmati or Jasmine Rice.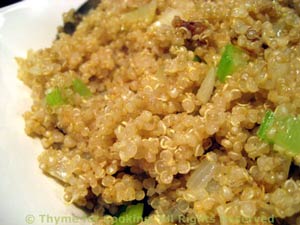 Ingredients:
1/2 cup (3.5oz, 100gr) quinoa
1 cup (8oz, 240ml) chicken stock
1/2 onion, 

about 1/2 cup

1 small rib celery, 

about 1/2 cup

2 tsp olive oil
 Instructions:
Chop onion and celery. 
Put quinoa and stock in a small saucepan, cover and bring to a boil.
  Reduce heat and simmer until done, about 15 minutes  (or whatever your package says).
Put quinoa in serving bowl and cover to keep warm.
Heat oil in saucepan, add onion, celery, and sauté 7 - 9 minutes, until starting to brown.
Stir in quinoa, heat through and serve.
Broccoli with Butter and Fresh Herbs
Total time: 20 minutes
    Butter and fresh chives are a simple finish for broccoli.  Any fresh herbs will work, but my choices would be chives or thyme. Use dried herbs when fresh are not available.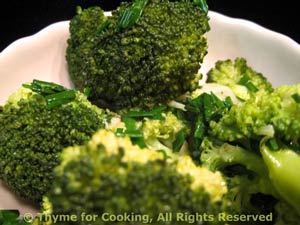 Ingredients:
1/2 head of broccoli  

enough for two

1 tbs butter

1 tbs chives

substitute 1 tbs dried
 Instructions:
Cut broccoli into bite size florets and stems. 
Put in a steamer basket in a saucepan with an inch of water in bottom.  Put on medium heat and steam for 10 - 12 minutes or until done. 
Remove from pan and set aside, discarding water. 
In same pan heat butter. 
Add chives and sauté lightly. 
Add broccoli and stir.  Serve.
Cooking schedule: 30 minutes
Assemble all food, utensils and serving dishes
Utensils: measuring cups, spoons, knives,
skillet, small saucepan with lid, serving bowl,
medium saucepan with steamer basket and lid
Cook quinoa
Chop all onion, divide
Chop all celery, divide
Mince garlic
Sauté onion, celery, garlic for turkey
Open, drain tomatoes, chop
Move vegetables aside, sauté turkey
Trim, cut broccoli
Turn turkey
Steam broccoli

Remove turkey
Add tomatoes, juices, mustard, horseradish, basil
Bring to a boil
Return turkey to skillet, simmer, uncovered
Put quinoa in serving dish
Sauté onion, celery for quinoa
Dissolve cornstarch in water
Remove turkey, increase heat under sauce
Remove broccoli, discard water
Sauté butter, chives for broccoli
Add broccoli, finish
Stir cornstarch in tomato-horseradish sauce, thicken
Add quinoa to celery/onion, finish
Stir yogurt into tomato-horseradish sauce
Spoon some sauce over turkey and serve everything